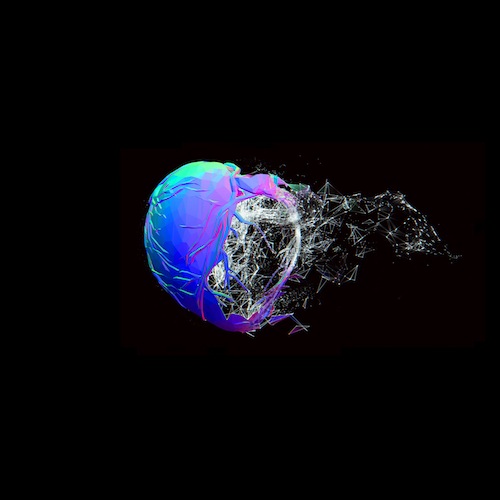 Album Review: EPROM - Halflife
Artist Name:

EPROM

Album Name:

Halflife

Release Type:

Album

Release Date:

Record Label:
Label Location:
Review Author:
Review Date:

EM Review Rating:
You may have heard of EPROM, the stage name of Alexander Dennis. He's that dude that emerged from the underground experimental scene with the hilariously-named track "Regis Chillbin". Though EPROM has been releasing music and honing his style since 2007, only recently did he catch the attention of the big festival-going crowds. After listening through his sophmore album, Halflife, it's safe to say that a producer of his caliber isn't just a one-off artist. EPROM's music will remain, and may even pave the way for the experimental garage scene in a world where big drops and house stabs reign supreme.
The first track, a gritty soundscape of revolving synths and analog patches that belongs in An Anthology of Noise and Electronic Music, acts as an index for what the rest of the album holds in store for listeners. "Center of the Sun" maintains the sounds of electronic music in its earliest years, drawing strong similarities to the works of Rogelio Sosa and Sten Hanson. EPROM makes his first appearance halfway through the song, turning the seemingly unstructured noise into a beat of monstrous proportions. Where "Center" illustrates the two main themes of Halflife, the rest of the album merges them into a sonic adventure into the history of noise and rhythm.
B---01.-Eprom---Center-of-the-Sun--EM1013
Stream:
Eprom - Center of the Sun
The next track, "Beasts of Babylon", takes a new-age twist on an ancient musical style, fusing Middle Eastern chord progressions and classic Arabian instruments with clean 808s and resonating saw waves. The Zeppelin-style drumming patterns in the bridge ground this tune, preventing tiring repetition and subtly abating the dichotomy between classic rock and modern electronic music. Following "Beasts" is "Hurricane". The reverbed and ring-modulated synths of this tune provide a semblance of stormy weather and rain (there's even a thunderclap every few measures). Though the song is in C major, the ominous chord progressions and grit of the backing synth set a dark and dismal tone.  The metallic echo added to the vocals resembles that of Bassnectar's own style of vocal treatment, akin to "Upside Down" and "Cozza Frenzy". At first glance "Hurricane" sounds like it could be a Bassnectar track, but in reality it means that other producers are beginning to profit from the benefits of dirtied-up vocals.
B---02.-Eprom---Beasts-of-Babylon--EM1013
Stream:
Eprom - Beasts of Babylon
B---03.-Eprom---Hurricane--EM1013
Stream:
Eprom - Hurricane
Bird sounds, mating calls, and fat sub-rocking toms make this next tune, "Vogel", an anthem for any nature-loving garage head. Though 21 BPM slower and not as rhythmically unique, "Vogel" aligns best with "Regis Chillbin", one of the first tunes that put Eprom on the map. Both feature sub-heavy 808s and uncommon samples, but "Vogel" strikes the listener as more of a rhythmic soundscape than a drumming anomaly.
A---04.-Eprom---Vogel--EM1013
Stream:
Eprom - Vogel
While some tracks stand out as heavy hitting party tunes, there are always a few in any given album that are meant more for the individual listener than big crowds; songs that belong on a personal sound system, not in the middle of a live set. Take "Cloud Leanmixx" and "Lost Levels", for example. Both resonate as spacey and evolving and sound amazing through a set of cans or personal speakers, but probably won't fit well in the middle of a live set. Obviously that depends on what kind of set it is, but for all intents and purposes they're just too mild to be party-starting tracks.
A---13.-Eprom---Cloud-Leanmixx--EM1013
Stream:
Eprom - Cloud Leanmixx
A---06.-Eprom---Lost-Levels--EM1013
Stream:
Eprom - Lost Levels
"Screwface" has that west coast tremolo analogous to Snoop's '90s style (see: "Gin & Juice" and "Fuck You") and also heard in Bassnectar's "Probable Cause". Much grittier than anything Snoop ever created, this tune sets itself apart from the styles it draws from through the use of heavy low-fi distortion and saturation.
B---07.-Eprom---Screwface--EM1013
Stream:
Eprom - Screwface
The eighth track of Halflife, "Machine Skin", is definitely one of the more bizarre songs on the album, complete with unconventional builds, offbeat introductions of strange samples, and enough sub-bass to punish neighbors half a block away. For the DJs reading this, if you've ever heard somebody suggest you "get weird with your set tonight", this is the tune to do it with. It's a great transition tool for going from anything to anything, be it tech house to ballroom or glitch to trap. In fact, "Screwface" and "Machine Skin" are in the same key and probably go very well together.
B---08.-Eprom---Machine-Skin--EM1013
Stream:
Eprom - Machine Skin
"Pentatonic Dust" is the softer side of garage, think Galapagoose, Deft, and Kiasmos. A great tune to spit verses over or burn an L to. A tune so chill that it sounds like the melodic remnants of the other 13 tracks thrown together and passed through a few filters. In fact, the name fits it quite well. On the other hand you have "Moisture", the soundtrack to a battle between Lasers and LFOs held in the dark depths of space. A death match of oscillatory proportions that gets even the most awkward of dancers grooving and swaying to the beat. It doesn't matter who wins because we all come out victorious.
A---09.-Eprom---Pentatonic-Dust--EM1013
Stream:
Eprom - Pentatonic Dust
A---10.-Eprom---Moisture--EM1013
Stream:
Eprom - Moisture
"Turtle Ride" is probably the most melodically interesting track of the album. It incorporates several types of synths popular in 8bit and indie electronic music. While the arpeggiated melodic motion of the main keys instantly grabs the listener, the periodic filtering and LFOs keep them locked in and grooving. It's always great when you find an artist that understands harmonic layering.
B---11.-Eprom---Turtle-Ride--EM1013
Stream:
Eprom - Turtle Ride
In its entirety, Halflife is one of those albums that deviates so far from the norm that comparing it to other styles is nearly impossible. The track arrangement, melodic structure, and harmonic intention of the album and its tracks afford Halflife all the praise it can get. Even with the bizarre nature of Rwina releases, EPROM prevails as one of their most forward-thinking and unique artists to date. We hope for more great things from him in the future, and would happily attend any and every show he plays.
HALFLIFE TRACKLISTING:
1. Center of the Sun
2. Beasts of Babylon
3. Hurricane
4. Vogel
5. Super FX
6. Lost Levels
7. Screwface
8. Machine Skin
9. Pentatonic Dust
10. Moisture
11. Turtle Ride
12. Subroc
13. Cloud Leanmixx
14. Wizard Island (Bonus Track)