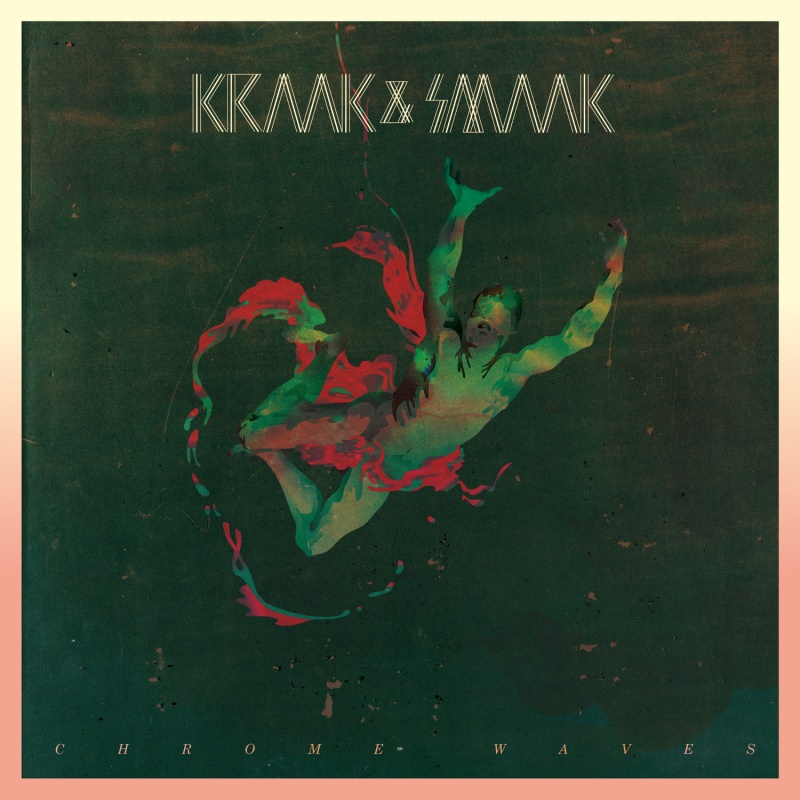 Album Review: Kraak & Smaak - Chrome Waves
Artist Name:

Kraak & Smaak

Album Name:

Chrome Waves

Release Type:

Album

Release Date:

Record Label:
Label Location:
Review Author:
Review Date:

EM Review Rating:
Dutch production trio Oscar de Jong, Mark Kneppers and Wim Plug have been preparing for their shiny, smooth and stylish release under the name you might know them better as, Kraak & Smaak. Their fourth album release, Chrome Waves is out for official release on Jalapeno Records on October 28th. It's an an 11-track wonder album that explores electronic music production through a funky, disco-inspired house experience that's through the vision of a welcoming and cozy lens. Because of its consistency with live electronic sound that has made Kraak & Smaak's career so far, Chrome Waves is able to plant its feet in a sound that falls somewhere between Daft Punk and Chromeo. We've got a special sneak peak at the whole album, and can't wait for you to hear it. 
The first single off of Chrome Waves has already received a ton of editorial support. "The Future is Yours" is a sultry, expressive with deep vocals, scintillating synth accents and rolling piano progression. The real star on this track, though, are the vocals.
The-Future-Is-Yours--EM1013
Stream:
Kraak & Smaak
- The Future Is Yours
This album features appearances by Janne Schra, John Turrell, Ben Westbeech and Sam Duckworth, and the 1980s synth-driven "How We Gonna Stope The Time" is the first collaboration we see, featuring the vocals of Stee Downes. 
Partnering with Sam Duckworth, "Good for the City" is a neo soul track with a funky edge. The most entertaining part about this single, though, is the matching retro music video accompanying it.
Good-For-The-City-(feat.-Sam-Duckworth)--EM1013
Stream:
Kraak & Smaak
- Good For The City (feat. Sam Duckworth)
Love-Inflation-(feat.-Janne-Schra)--EM1013
Stream:Kraak & Smaak
- Love Inflation (feat. Janne Schra)
Until "Your Body," Chrome Waves has given us ultramodern takes on the 70s and 80s, "Your Body" seems to be influenced by the early use of electronic elements in song production of the 1960s. It's not simple or straightfoward, but rather very experimental and soulful, aiming to hit our emotions and make us think.
Stream:
Kraak & Smaak - Your Body
"Where You Been" is a loungey track with impressively relaxed and futuristic tribal instrumentals. It's dark, velvety and mature, and paired with the following track "F.A.M.E." the guys have showed us that they really know how to get sexy with their productions.
Stream:
Kraak & Smaak
- Where You Been
Kraak & Smaak close down Chrome Waves with three vocal tracks that seem to embody the soulful, retro, modern voice of the album. "Just Wanna Be Loved," "Don't Let People," and "Back Again" are groovy, cosmopolitan and leave us feeling smooth.
Just-Wanna-Be-Loved-(feat.-Joi-Cardwell)--EM1013
Stream:Kraak & Smaak
- Just Wanna Be Loved (feat. Joi Cardwell)
CHROME WAVES TRACKLISTING:
1. The Future is Yours
2. How We Gonna Stop The Tme (Feat. Stee Downes)
3. Good For The City (Feat. Sam Duckworth)
4. The Upper Hand (Feat. Upper A)
5. Love Inflation (Feat. Janne Schra)
6. Your Body
7. Where You Been
8. F.A.M.E. (Feat. Retro Stefson)
9. Just Wanna Be Loved (Feat. Joi Cardwell)
10. Don't Let People (Feat. Berenice Van Leer)
11. Back Again (Feat. John Turrell)