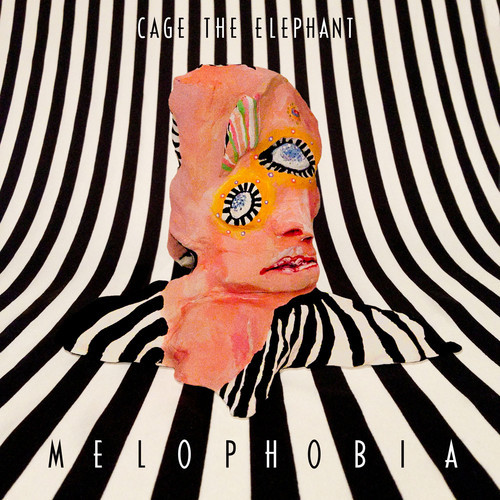 Album Review: Cage The Elephant - Melophobia
Artist Name:

Cage The Elephant

Album Name:

Melophobia

Release Type:

Album

Release Date:

Record Label:
Label Location:
Review Author:
Review Date:

EM Review Rating:
The rock music climate is very different these days. It no longer dominates the popular radio waves and in some markets, it is even difficult to find a radio station that doesn't put the same five artists on replay (how many times can you listen to Katy Perry's "Roar" in one day!?). However, radio does not concern Cage The Elephant; they create music for themselves and their fans. For their third album Melophobia, the rock band chose to block the outside noise and look deep within.  As a result, they found an identity and created a signature sound all their own.
When first listening to Melophobia, I felt like a proud parent watching their child mature. Though the album lacks songs like "In One Ear" and "Ain't No Rest For The Wicked," songs like "Spiderhead" and "Come a Little Closer", showcase how the band has evolved over the years. Though most of their punk influence is M.I.A. on Melophobia, Cage The Elephant is far from making elevator music. "Teeth," for example, is a take no prisoners, rambunctious rock tune, which I envision being a crowd favorite at future shows. "Teeth" is about the vibrancy of life and how things are changing," says energetic front-man Matt Shultz.
Another stand out track on Melophobia "It's Just Forever", features guest vocals from The Kills' Alison Mosshart. Her edgy, bluesy vocals compliment the track by providing an extra dimension to Schultz's airy voice. There's also a random piano outro, and the guitar reminds me a bit of old school surfer music. Even the track "Spiderhead" has a bit of a west coast vibe with a new aged doo-wop feel to it.
The Kentucky-bred band displays their sensitive side on "Telescope".  Schultz admits he was in a "heavy-hearted place" when he wrote it.  This is one of the tracks where you can really hear the maturity of the band. Shultz's lyrics about watching himself outside of himself give you a bit of insight into his psyche and the loneliness he must have felt at that time. "Cigarette Daydreams," finds Cage at their most vulnerable with acoustic guitar strumming setting the stage for moody storytelling; and Shultz vividly describing the person who I believe inspired the song, "Close your eyes so fake…hide behind that baby face…so sweet with a mean streak…nearly brought me to my knees."
In my opinion, Melophobia is Cage The Elephant's most balanced and well-rounded album to date. This album is definitely less heavy than its two predecessors, but what it lacks in screaming and distortion it makes up for in creativity and honesty. It may take some time for most of their fans to adapt to their new material, and it takes a few listens to really appreciate it; however, I think most fans will be pleasantly surprised.
[soundcloud url="http://api.soundcloud.com/playlists/11138874" params="" width=" 100%" height="450" iframe="true" /]