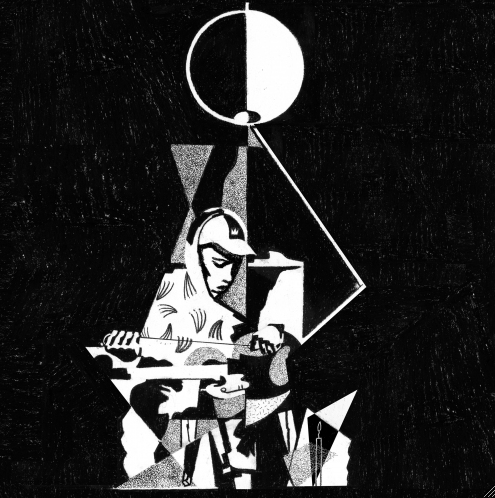 Album Review: King Krule - 6 Feet Beneath The Moon
Artist Name:

King Krule

Album Name:

6 Feet Beneath The Moon

Release Type:

Album

Release Date:

Record Label:
Label Location:
Review Author:
Review Date:

EM Review Rating:
Archy Marshall is younger than Justin Bieber. Nothing about the polished, perceptive music he makes suggests that, though. The adolescent ginger, now performing under the moniker, King Krule, abstains from the juvenile clichés so often milked by those of his ilk—his ilk being teeny-bopper, popcorn, bubblegum pop sensations. The artist formerly known as Zoo Kid isn't a pop star himself, but most recording artists his age are, simply because a certain level of immaturity is expected to saturate the thought processes of the young and restless. He, therefore, is guilty by association, and held to the same subpar standard as his peers, those that appeal to the lowest common denominator with infectious, mindless commercial megahits. This has predictably worked to his advantage (as it often does for most teenage savants) presenting him in the rather flattering light of "kid prodigy"—a light he wholly deserves. Mild alexithymia—or the inability to identify and process one's feelings—seems to be a side effect of youth, and when someone young has such a masterful grasp on his (or her) emotions it almost becomes a spectacle. Society has taught us that teenagers are impulsive, naïve, angry for no reason, and they don't know why; and, as a result, they aren't supposed to conjure up ideas—specifically regarding thoughts or feelings—of any real substance. King Krule manages to prove himself an anomaly to such stereotypes, and he adeptly subverts generic adolescent formulas, creating a debut that is as understanding as it is sharp.
Download:
King Krule - Neptune Estate
Krule is the definitive anti-fad; there are traces of it in his voice, both in tone and in affect. He croons like his leathery throat has been massaged with honey, producing a sweet richness that is also formidably robust. He belts out tunes like a 50s Blues singer, and it is so rousing that it almost detaches one from any sense of time. There is a certain timeless charisma that permeates his music, and it defies the restricting confines of genres and eras. King Krule is typically labeled a great deal of things in an attempt to categorized and classify his appeal—indie rock, soul, electronic, even post-dubstep—but such tags can only serve to pigeonhole him. He has become very good at blending the sounds of the past into a very distinct feeling, one of love-laced sorrow, one catered specifically to angst-ridden millennials, but also one any teenager from any era could relate to. You can't label that.
Download:
King Krule - Borderline
Tales of young love lost have never been this coherent before or this palatable. On 6 Feet Beneath The Moon, King Krule painstakingly laments the loss of love under a microscope, analyzing his own feelings and placing them in context. The album as a whole seeks closure, pushing for an outcome that is simply unattainable. "My sandpaper sigh / engraves a line / into the rust of your tongue / I could've been someone / to you," he croons, almost in an attempt to rewrite history with his thoughts. Krule continuously captures the vast array of feelings one projects following the loss of a first love, and he does so in a way that is raw and real. The warmth of his croaky voice further feeds his narrative. He is able to bottle his reactions, both visceral and rational, and regurgitate them in a way that is hauntingly crisp, beautiful even. Each moment induces bittersweet nostalgia.
Download:
King Krule- Lizard State
"You know I tried so hard," King Krule admits honestly, seemingly blaming himself for the inevitable on "Borderlines." "My feelings just can't discard the way in which I fell into your heart." His attachment is clear, and his desperation forces him to overlook the fact that his deteriorating relationship is a symbiotic one. "I want to be with you, I want to be used," he croaks in "Neptune Estate," a song that sounds like one James Blake might've made during puberty. Even when Krule goes electronic, it reeks of youthful angst, and it has the added bonus of feeling like heartbreak for the modern age—emo-laced, EDM-based ballads for a new generation of young lovers. Some of the albums brightest moments, though, are when the young musician is at his darkest. "Well I've got myself trapped in the black of your heart…but if I can't have you then no one can," he shouts menacingly on "Lizard State," a track with a groove that hides its malice. "Lizard State" is followed quickly by "William, Here I Come," which echoes the sentiments of its predecessor, "If only, I had a heart to rip in two / because you owe me." King Krule masterfully pieces together his broken heart track by track, and he creates a magnificent full-length debut in the process—one that will certainly set lofty expectations for him in the future.
William-Here-I-Come--EM0813
Download:
King Krule - 'William, Here I Come
The future feels bright for young Archy Marshall, even as his past feels so riddled with the sorrow of teenage melodrama. 6 Feet Beneath The Moon is a flawlessly brilliant effort that showcases the fledgling work of a musician that probably has yet to hit his prime; a scary thought, indeed. King Krule will continue to grow, both as a human and an artist, and one can only imagine what kind of records he'll be crafting by the time he turns 25—I'll go out on a limb and say good ones. Before that time, though, it would be in this mystery girl's best interest to consider reconciling with the boy wonder. He may never be as big as Justin Bieber, but the kid is undeniably a star.