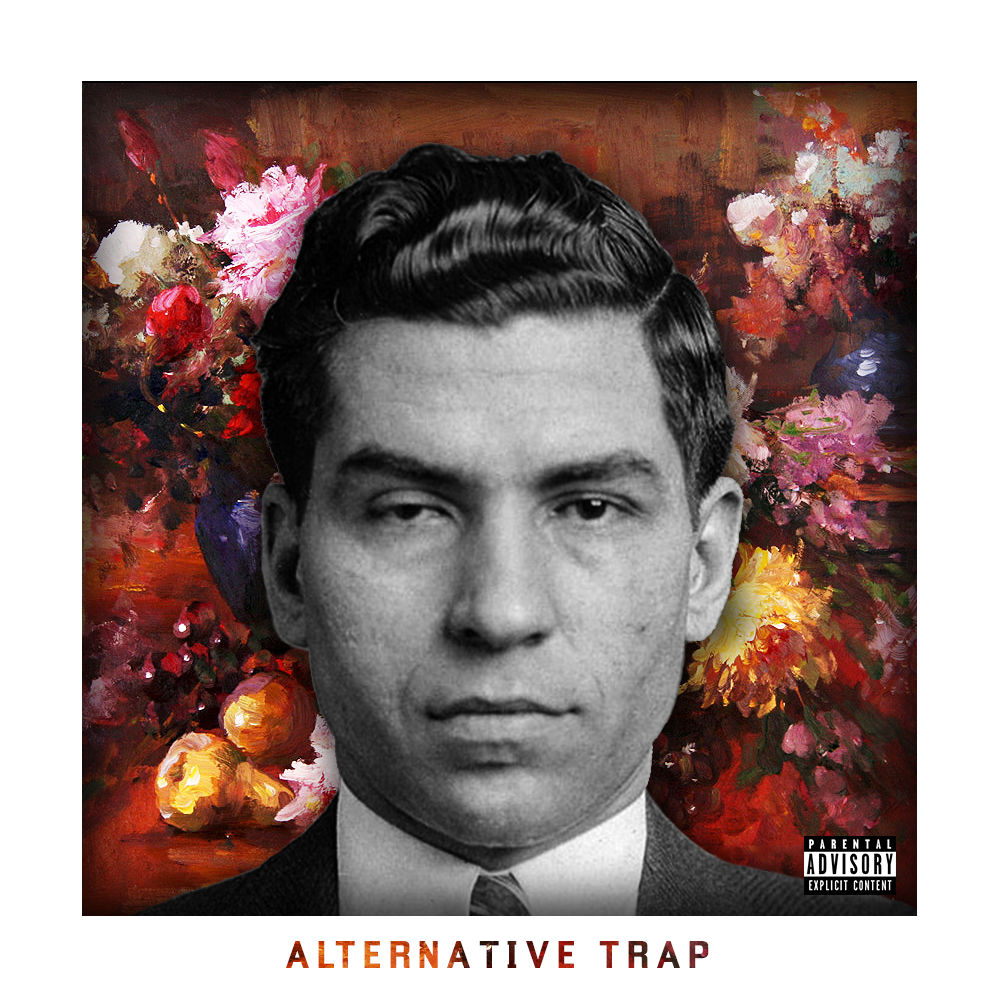 On the HBO series Boardwalk Empire, gangster Charlie "Lucky" Luciano is depicted as a young, hotheaded recluse lacking the pragmatic thought processes necessary to be a boss. When he starts dealing drugs, his lack of composure inevitably leads to him losing his dope, and it becomes unmistakably clear to the viewer that there is something to be said about the importance of poise. Despite the fact the Italian drug trafficker's face is featured prominently on the cover of Lucki Eck$' debut, Alternative Trap, the Chicago dealer-turned-MC is not Luciano's rap doppelganger. In fact, he's the furthest thing from it. Lucki Eck$ projects himself as a thoroughly unflappable, drug-peddling sage, and—whether this reflects a reality or not—his levelheaded, often casual delivery fleshes out the character. With a rare ear for the unusual, Lucki raps about dealing cocaine with a nonchalance that might be sinister if his content wasn't so peppered with Gallows humor. The rapper manages to redefine the trap sub-genre without straying too far from its narcotic-laced roots, and creates one of the best projects of the year—if not the best—in the process.
Alternative Trap is stream of consciousness, self-aware, and self-assured anomalous trap rap from an almost stoic kid not nearly green enough to completely dismiss the damage his work does, but too cynical to care. The project teeters on the brink of pure apathy and Lucki playfully flips trap clichés to form abstract punchlines that trivialize dealing coke, as if he has been disillusioned by the street anthems of the mid-2000s—when he, now a teenager, was most impressionable. At its core, Alternative Trap is a character study—a brilliant dissection of a pusher's psyche that makes the dealer the subject of examination and not the coke or the environment. "These niggas say they trappin', nah they the hostages," he spouts confidently, tellingly exposing his own warped perception of the dope game. Gucci Mane, arguably trap's king, primarily revels in the spoils of trapping, Lucki raps about the science of the sale, taking great pleasure in the detailed oriented nature of moving product. To him, this is simply a game and he constantly puts his bottom line before any type of greater good (or the good of his clientele) in the name of Tony Montana's American Dream.
I first referred to Lucki Eck$ as the curator of an atypical trap sound, and he is that, but he's also something more. He may be a potential archetype for the trap rap of a new era. It's no secret that the generic trap sound has grown stale. Artists that seek simply to emulate the pedestrian or anything perceived as hot have diluted the sub-genre to such an extent that most acts have grown indistinguishable. Even familiar trap staples like Young Jeezy and T.I. are struggling to reinvent themselves facing the possibility of being out-trapped by the neophytes of the growing subculture they helped nurture and define. Lucki has chosen to take a new approach to moving bricks, though, one that is far more unconventional with far greater potential returns. This is trap music for the thinking man; it has all of the same motifs, but it requires examination, or at least consideration, of the dealer's psychology. This element brings a new dimension to the trap we've grown accustomed to, and provides a fantastic first person interaction with selling cocaine.
In addition to providing added depth conceptually, Alternative Trap restructures the trap soundscape, adding, if nothing else, a bit of diversity to the now overused framework. There are no traces of Zaytoven or Shawty Redd or even Lex Luger. This isn't 808 sub-bass kick dominated, layered synth heavy, clatter with redundant themes. This is alternative in every sense of the word—indie samples and pizzicato violins and spacey sounds. Outside of "Cocaine Woman," a song produced by the incomparable (and uncredited) Clams Casino, the production is handled by a host of new beatmakers—mostly from Chicago—and they all carry their share of the load with remarkably succinct results. Out of the bunch, Plu2o Nash and Hippie Dream, both Chicago products, shine the brightest, finding innovative ways to further expand Lucki's already unique sound bed. The production is extraordinary from start to finish, and everyone adds something worthwhile to the epic tapestry. Pusha T coined the phrase "drug dealer Picassos" seemingly for this precise moment. There is no project more fitting of the description.
On "Nicky Wilson," the project's first of three beats from Hippie Dream, Lucki takes a moment to step away from intricacies of dealing to big up his crew. "They aint touching my squad on Nicky Wilson," he boasts, putting his team's rep on a figure I have yet to indentify (a con man or mob figure, perhaps?). In any case, the mysterious nature of the figure makes the song that much more captivating. On "Interest," the Chicago rapper talks finance and demographics while also finding time to take shots at his adversaries ("Don't make me catch a body like trust falls"). The project's standout cut is "New Life," produced by the aforementioned Plu2o Nash, and it is easily the most apathetic track on the entire project. "Drugs and guns in my new life, that's straight with me / Don't waste no time, don't waste no thoughts, so please do try to pray for me (don't do it) / Nah, nah…don't do it." Every song is simply another piece to a bigger picture; that picture is realized upon the projects conclusion as a complete reinterpretation of the trap-to-listener relationship.
Nicky-Wilson-Prod.-Hippie-Dream--EM0813
<strong>Download:</strong> <a href="http://files2.earmilk.com/upload/mp3/2013-08/Nicky-Wilson-Prod.-Hippie-Dream--EM0813.mp3"><strong>Lucki Eck$</strong> - Nicky Wilson Prod. Hippie Dream</a></p>
Interest-Prod.-Plu2o-Nash--EM0813
<strong>Download:</strong> <a href="http://files2.earmilk.com/upload/mp3/2013-08/Interest-Prod.-Plu2o-Nash--EM0813.mp3"><strong>Lucki Eck$</strong> - Interest Prod. Plu2o Nash</a></p>
New-Life-Prod.-Plu2o-Nash--EM0813
<strong>Download:</strong> <a href="http://files2.earmilk.com/upload/mp3/2013-08/New-Life-Prod.-Plu2o-Nash--EM0813.mp3"><strong>Lucki Eck$</strong> - New Life Prod. Plu2o Nash</a></p>
The thing that truly makes Lucki Eck$—and Alternative Trap by extension—so special is his seemingly innate ability to transmit complete indifference to coke's adverse effects and its impact on communities so convincingly. And, even in the midst of being so persuasive, he still manages to convey naivety, as if he knows the ramifications but doesn't fully understand them. One would assume a drug dealer would have to be quite the salesman to continue to move a product that is essentially a poison in a market full of killer (sometimes literally) competition. Lucki raps with a wit and charm that feels true to that skill set, yet, he seems to feel nothing at all—not pain, not fear, and certainly not compassion. This intensely cold-blooded performance is quite chilling, but never off-putting.
Alternative Trap is a triumph in more ways than one from a promising young rapper that has impressively emerged from the genre's interim breeding ground (or at least New Yorkers hope its temporary). There are few releases as scintillating this year and there aren't any as refreshing. Lucki Eck$ is clearly making a conscious effort to reform trap music, and it's about time someone finally took up the mantle. Hopefully others follow suit. Only time will tell if he succeeds or not, but the seeds have been planted.