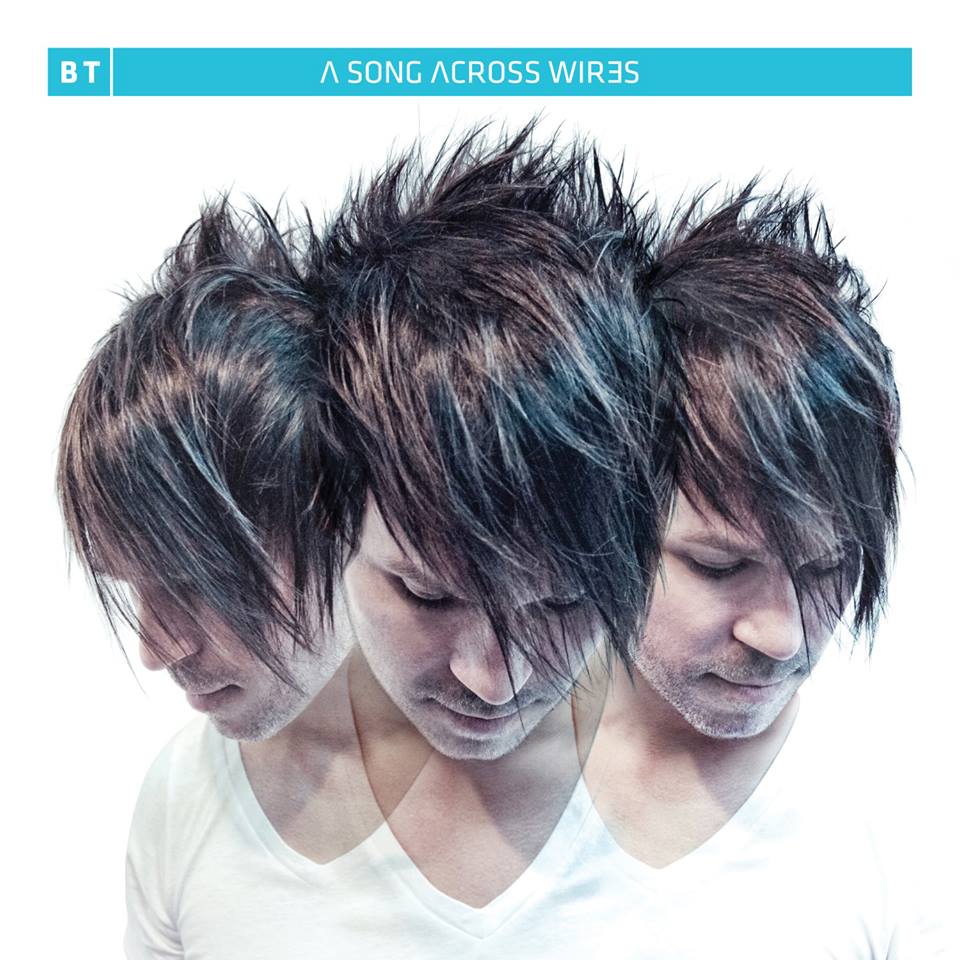 Album Review: BT - A Song Across Wires
Artist Name:

BT

Album Name:

A Song Across Wires

Release Type:

Album

Release Date:

Record Label:
Label Location:
Review Author:
Review Date:

EM Review Rating:
If you don't know BT by his name or his face, you definitely know him from the music and artists he's worked with over his 20-year career. Helping to build the house movement from scratch in America, taking it to Europe, and now bringing it back home again, the Maryland-born artist is not only musically talented, but works at his unique craft like the engineer that he is. On August 17th the unbelievably accomplished artist releases his first artist album in 3 years on his label Binary Acoustics entitled A Song Across Wires, and it's sure been a long time coming.
In the past the man behind the initials, Brian Transeau, has taken long breaks between producing albums. And it seems that in these breaks is where his artistic inspiration flourishes, as he's really able to experiment, explore and cultivate the inspiration and vision for his next venture as BT. For instance, before the release of his career retrospective, 10 Years in the Life in 2002, he had spent producing tracks like the iconic "Not a Girl, Not Yet a Woman" for Britney Spears. And this time he's returned from a phase experimenting in ambient music within a 3-year break since his last (and Grammy-nominated work) These Hopeful Machines.
Like any great album, A Song Across Wires is told like a story of real life, that ebbs and flows like any live show that mimics the real life of a modern day person. Having a background in both engineering and thorough musical training at the Berklee College of Music, A Song Across Wires, like most of BT's work includes an album title with latent meaning out for interpretation by the listener. Inspired by a line from the poem, "I Wrote This for You" the album is both a retrospective on BT's career and a venture onto new musical journeys that he's taking. The titles of his artist albums have an overall comment on the way machinism affects our lives but still help to keep us connected, even if the technology is actually all that exists between us. But as the first track on the album, "Skylarking" proves to us: in the end, it's the music and the emotion from it which keeps us human.
[soundcloud url="http://api.soundcloud.com/tracks/79830444" params="" width=" 100%" height="166" iframe="true" /]
Throughout A Song Across Wires, we hear BT's exploration through different genres: and it's light dubstep in his partnership with vocalist JES on "Letting Go." Pairing dub that is lighthearted somehow is shocking when paired with JES's emotive vocals, and is an instant reminder to the listener that yes, you're listening to an album. Pay attention.
He also dabbles in trance, which is in no way an experimentation for BT. He's got his style down to a science here, one that's beautiful, unpredictable but also assuringly cohesive. Tracks like "Tomahawk" with bass and chillstep king Adam K are a symphonic movement in themselves, and connect with emotive vocal work like that on both of his tracks with Australian trance artist tyDi. 
-02-Tomahawk-(Original-Mix-Edit)--EM0813
Stream:
BT & Adam K
- Tomahawk (Original Mix Edit)
Stream:BT, tyDi & Tania Zygar
- Stem the Tides
Stream:BT & tyDi feat. JES
- Tonight
It's wonderful to see an artist such as BT be able to take his musical experiences and perspective on his own journey with them and turn it into new, fresh music. That has proven itself even before this album release, with the success of both "Surrounded" that was released with producer and vocalist Aqualung earlier this month, and "This Must be the Love" that came out earlier this year with Audien and the dance voice, Nadia Ali. One of the best tracks on this release, "Calling Your Name" with the dominant vocal artist in trance, Emma Hewitt, is bound to follow suit. An update to his track of the same name from back in 2010 that was released under the pseudonym Libra Presents Taylor, he's brought the duo Tritonal along to perfect the updated track.
[soundcloud url="http://api.soundcloud.com/tracks/100732053" params="" width=" 100%" height="166" iframe="true" /]
BT-Tritonal-Emma-Hewitt---Calling-Your-Name-(Album-Mix)--EM0813
Stream:
BT, Tritonal & Emma Hewitt
- Calling Your Name (Original Mix)
[soundcloud url="http://api.soundcloud.com/tracks/59146232" params="" width=" 100%" height="166" iframe="true" /]
Lifeline-(Album-Mix)--EM0813
Stream:
BT feat. Dragon, Jontron & Senadee
- Lifeline (Album Mix)
Tracklist
01. BT - Skylarking
02. BT & JES - Letting Go
03. BT & Adam K - Tomahawk
04. BT & Bada - City Life
05. BT, TyDi & Tania Zygar - Stem The Tides
06. BT, TyDi & JES - Tonight
07. BT & Christian Burns - Love Devine
08. BT & Aqualung - Surrounded 
09. BT - Vervoeren
10. BT, Tritonal & Emma Hewitt - Calling Your Name
11. BT, Arty & Nadia Ali - Must Be The Love
12. BT & Senadee - Lifeline
BT is also not one to play at every festival in every city all summer long. You might see him at a club performance here and there, which makes each show super special and unique. Such can be said of the celebration at Marquee New York earlier this year, where he celebrated the 100th episode broadcast of his radio show Laptop Symphony. This Saturday, August 17th, BT returns to the venue for his A Song Across Wires album launch party. The venue boasts one of the best sound systems in the city, and for a trained musician like BT to host his party there, really compliments the newly renovated venue. Get your tickets for the show HERE.