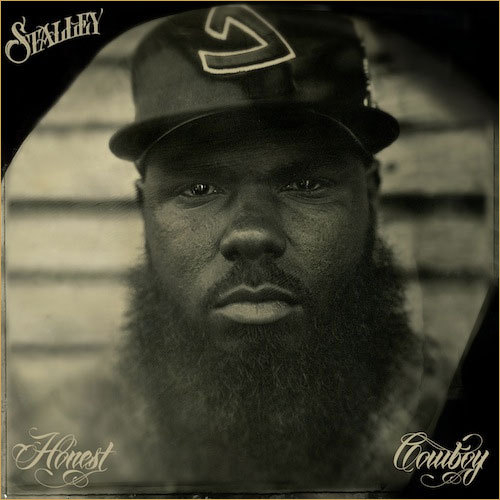 Album Review: Stalley - Honest Cowboy [Album Review]
Artist Name:

Stalley

Album Name:

Honest Cowboy

Release Type:

Mixtape

Release Date:

Record Label:
Label Location:
Review Author:
Review Date:

EM Review Rating:
When it was announced that Stalley would be joining Rick Ross' Maybach Music Group Empire, way back in 2009, I went into full on panic mode. MMG and its Boss, had made a name for themselves by rapping about extravagant money, cars (they derived their name from one of the most expensive luxury cars), women, and alcohol. They were--and still are--strip club kings. On the other hand, Stalley is a rapper from a working class town—Masillon, Ohio—whose rhymes focus on growing up poor in a blue collar family. He and MMG seemed like an unlikely pairing; perhaps you can argue that he was into expensive fashion, but nowadays who isn't. I was afraid that he might have sold his soul for the quick and consistent cash that Ross' label would assure him. Instead of producing another Lincoln Way Heights, he would create a Teflon Don which would appeal to a far greater audience (side note: Teflon Don is possibly my favorite Ross release). 
Since his signing, I've been hesitant to listen to his newer music—fearful of the ensuing disappointment. While I did enjoy Savage Journey To The American Dream, released last year, I thought the incredible number of features took away from some of Stalley's lyrically charged rhymes in order to produce more radio friendly track. It didn't sound the same, probably caused by me psychologically hanging onto what once was. After a month or so, I almost forgot about him. To me his role seemed to be the "intellectual rapper who comes on the fun tracks and sounds out of place." And I didn't like that.
Then, in the promotional campaign that accompanied his latest release - Honest Cowboy - Stalley vocalizes these very sentiments that caused me to worry. Stating that too much of the music released today are geared towards the club, and there isn't a balance. "There are a lot of people who want substance, who want to hear someone speak for them and speak for their problems. Also not their problems but their happiness…we're missing that in the music". The shock that these words caused in me drew me to the download link. Perhaps, the best decision I've made this week.
To put it bluntly: Stalley's Honest Cowboy is one of the best projects I've heard this year. It's a short—only eleven tracks spanning a little over forty five minutes--mixtape that really delves into the issues that the Ohio rapper sees around him. 
What's really impressed me about Stalley, was his loyalty to his friends and town who originally supported him. Yes, he has garnered critical acclaim from critics and an audience that is now spread across several continents. It's true, that on any given day, you can find him rolling down the street riding shotgun with one of the rap game's biggest superstars. Perhaps, he has more money now than he even imagined he could accumulate this fast back in 2008. Yet, Stalley still remains true to his blue collar and working class roots; the only difference now is that he understands that people suffer from similar problems all around the globe. Keeping these topics sounding fresh and interesting, is a true testament to his lyrical greatness. While some might find it boring or tedious to listen through, if you give it an honest chance, you will find that Stalley has a lot to offer you. 
The mixtape begins with "Spaceships & Woodgrain", a piano driven track that could've easily been on Lincoln Way Heights. If you've never heard a Stalley tape before, you will be forced to get familiar with his "intelligent trunk music" style—it's heavily reliant on bass, and will test your car's speaker system. As soon as the song begins, before Stalley even starts rapping, this soul/funk bass line comes in, which creates a cool, but thunderous vibe. This is definitely a track to play in the whip, DJ Quick and Cardo did an amazing job on the beat. 
--Spaceships-Woodgrain-Prod-By-DJ-Quik-Cardo--EM0813
stream:
Stalley
- Spaceships & Woodgrain [Prod. By DJ Quik & Cardo]
"Swangin," the longest track on the tape, follows up next. With deep bass 808 synths  and kick drums programmed to what sounds like the lowest settings, this track will have your car rattling or your ears bleeding (but you'll love it). Stalley rhymes with a really laid back-almost purple drank influenced-flow, which makes all of his lines come off smooth: "Cops on my heels but I'm beating down still/Chrome on my lap for these jackers out to kill/Feet size Shaquille, it's magic how the paint pop the grill/Pop the clutch and squeal, blades chop like Kill Bill." Did I mention that Scarface is on this track? Not yet. Well, Scarface is on this track, he doesn't release features just every day. This track is a must hear.
Stalley-Ft.-Scarface---Swangin--EM0813
Stream:
Stalley
- Swangin Ft. Scarface
The next two tracks--"Samson" and "The Highest"--can't really compare with the masterpiece that's at the second slot. However, "Samson" does acknowledge his MMG status in a really cool way. Stalley is aesthetically known for his beard, which James Harden now rocks on the basketball court.  His beard and the success he has built with it are referenced all throughout the track, including on the hook: "Big beard, big box, never thought it would turn to a Maybach/it's a cold world we all know the answer/gold on my neck call me Samson." Going a creative step further, Rashad-the producer-then samples Rick Ross bragging that he makes "Money, everyday my beard grows." Stalley goes full out braggadocio on this track, taking a step back from talking about his whip or social misfortune. He even calls out his haters and people who didn't have his back in the past. It's an unusual theme for him, but the song works really well. 
Stalley-Samson_Prod_By_Rashad--EM0813
Stream:Stalley
- Samson [Prod. By Rashad]
"Cup Inside A Cup" feels like it was made by Clams Casino circa 2010, which works perfectly for Stalley's style. With a title referencing codeine, you wouldn't assume that the track would be a really conscious look at his neighborhood, but that's what Stalley gives you. At one point he talks about today's youth and his influence in their development into either positive or negative forces in their community: "On my porch, as I watch the little kids grow, up into hustlers and dope criminals/Fascinated by cars and car stereos/My granny said it's my fault, cause they all want to mimic you/Pretty women, fly clothes, and some tennis shoes/And they all want to get it too/They might all grow up and actually might really want to get at you." As low key as it is, it serves an important purpose as a divider. Separating the more fun songs that are closer to the beginning of the album, and the socially conscious songs that close it out, reminiscent of Danny Brown's XXX.
--Cup-Inside-A-Cup-Prod-By-Black-Diamond--EM0813
stream:
Stalley
- Cup Inside A Cup [Prod. By Black Diamond]
"Raise Your Weapons" is a song only Stalley could have created, and it is a song that everyone needs to hear. It starts off with the rapper contemplating some of the ills that he and his family are experiencing. He figures out that the pain he feels is the same hurt that everyone goes through on a daily basis. The entire time, Block Beataz makes the piano sampled from Deadmau5's "Raise Your Weapon" sound more and more anxious. Finally, Stalley concludes his first verse ominously, almost screaming: "You bastard listens before the nation millions I provoke/ And we show up at your front door/ Weapons raised no question made/You knowning what we come for/ Respect of the upmost!" At this point Greta Svabo Bech's beautifully sampled vocals are introduced, almost as if it was a rallying call to listeners. Once Stalley returns, the beat goes absolutely nuts. Hi Hats are flying all over the place, there are deep bass drums, snares are snapping at insane speeds, and Bech's voice is being pitched up and down—transforming them from innocent crooning, to an intense soundtrack for the collective anger felt by many in the country. With Stalley yelling his frustration and releasing all of the tension in his body over this already chaotic beat, the track literally becomes an audio revolution. It is one of the most impressive songs I've heard to date, and easily my favorite track on the album. Stalley is at his best on this track. Hyped doesn't even explain the feeling you will have when you hear this. 
--Raise-Your-Weapons-Prod-By-Block-Beataz--EM0813
Stream:Stalley
- Raise Your Weapons [Prod. By Block Beataz]
Unfortunately, not every track on the mixtape has me so enthused. "NineteenEight7" was really disappointing. It sounds like Schoolboy Q didn't want to be on the song, his verse is so lack luster. I almost wish he wasn't on the mixtape, especially since he is the only rap feature other then Scarface-who kills his song. "Long Way Down" was not a good way to follow up a revolutionary song like "Raise Your Weapons". After expanding so much energy on the latter song, I wanted to chill a little and recoup. I wish "A-Wax"-with its Wiz Khalifa sample-came after it, but that song is really hard to proceed. "Getting By" is alright, nothing really jumps out about it. It's not bad, just not that memorable.
--A-Wax-Prod-By-Block-Beataz-(Hidden-Track)--EM0813
stream:
Stalley
- A-Wax [Prod. By Block Beataz] (Hidden Track)
Stalley really crafted one of the best projects this year. He caught me by surprise. Honest Cowboy really displays his talents and his thoughts. Many people could learn a lot by listening to this tape, which is something that isn't said that often these days. Stalley knows how to live a lavish lifestyle, while remaining true to his roots and sticking up for the little guy. This makes him an endearing character, and easy person to root for. I highly recommend this project to anyone looking for a new and refreshing voice in hip hop.