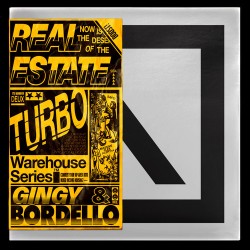 Album Review: Gingy & Bordello - Saturday Night Fervor EP
Artist Name:

Gingy & Bordello

Album Name:

Saturday Night Fervor EP

Release Type:

EP

Release Date:

Record Label:
Label Location:
Review Author:
Review Date:

EM Review Rating:
Representatives of dynamic labels such as Tiga's own Turbo Recordings, the Chinese-Italian duo from Canada, Gingy & Bordello, are back at it again with a sophomore EP release brilliantly titled, Saturday Night Fervor. A three track issue meant to bring both ladies and gents to their feet in a warehouse meets modern dance music sort of way, these two wizards set up a jarring party session that proclaims to be made up of the same stuff that makes the world go round. 
Saturday-Night-Fervor--EM0813
Stream:Gingy & Bordello
- Saturday Night Fervor  
The title track "Saturday Night Fervor", is a dignified number filled with a funky cut that awakens memories of soulful nights out. The disco interpretations stir a measured groove that'll leave your feet happy and your ears ringing with fulfillment over and over. Once again, Gingy & Bordello manage to blur the genre lines a bit more—helping us appreciate the music purely by our intuitive feedback, not by outer conceptions of what certain genres are supposed to sound like.
"All Day" serves as a nice crossover tune between the former soul-driven vibe and the upcoming hearty track. Adequately placed at the center, it hammers through a four on the floor jive, with a timeless trifecta of kicks, hi-hats, and bass line. Displaying a corky 4/4 classic setting with a clean sample that blurts out "All Day!", the hype driven chords turn up even as the track trickles and strips down towards the ending—proving to be the perfect bridge for what's next.
All-Day-(Robert-Hood-Remix)--EM0813
Stream:Gingy & Bordello
- All Day (Robert Hood Remix)
Last but definitely not least, is the Detroit native and Underground Resistant affiliate, Robert Hood, who truly sends it home with his Motor City inspired remix of "All Day".  Piecing together a throwback, calorie-burning dose of Detroit jacking techno, and adding some spice to the already hard-hitting track, we see him rework those signature rhythms that trace a palate from his edgier Floorplan tendencies.
An unfailing release that speaks to many dance music devotees, Saturday Night Fervor marks an entry for new interpretations on the pioneering musical groundwork set by DJ's and producers decades ago. Danceable and enjoyable, this booty shaking EP will be a nice fix for those 4 a.m. dance floor fillers most night owls crave.