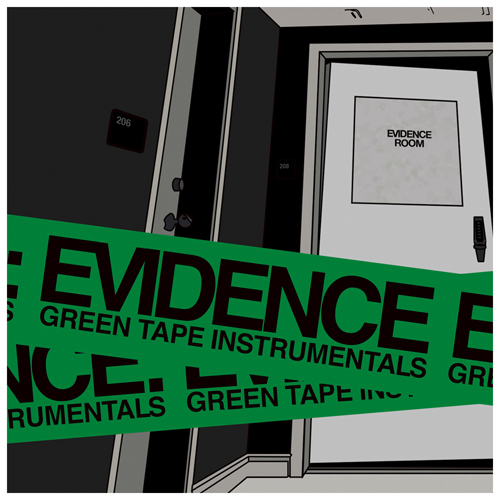 Album Review: Evidence - Green Tape Instrumentals [Album Review]
Artist Name:

Evidence

Album Name:

Green Tape Instrumentals

Release Type:

Album

Release Date:

Record Label:
Label Location:
Review Author:
Review Date:

EM Review Rating:
Most heads remember his jam with Kanye West that goes, "I can't live my, I, I can't live my, I can't live my life this way." Or they know his group Dilated Peoples, the celebrated Los Angeles trio that put out four underground jewels in the 2000s -- The Platform, Expansion Team, Neighborhood Watch and 20/20. Some plugged-in fans may even recognize his artsy Instagram photos of Venice Beach oddities, technicolor sunsets and palpitating clouds formations that will soon be on a Diamond Supply Co. t-shirt. But what too many hip-hop heads don't know, despite their familiarity with the art itself, the 'evidence' so to speak, is the man behind the music, Mr. Slow Flow.
Dialated-Peoples-f-Kanye-West---Dilated-peoples-ft-kayne-west---This-Way--EM0613
Download:
Dilated Peoples feat. Kanye West - This Way
Hailing from a foxhole somewhere in the reeds of Venice Beach, California, Michael Perretta, known on wax as Evidence, actually seems to lead a life outside of rap, preferring that his work grace the red carpet and not him. In 2004, Perretta won a Grammy for his production on Kanye West's College Dropout, and since then has dropped two critically-acclaimed solo LPs, The Weatherman LP in 2007 and Cats & Dogs in 2011. He's also produced some fine records for Fashawn and Sean Price, and continues to drop instrumental tapes of a certain vintage. Green Tape Instrumentals is the latest in that series. If anything can unlock the mystery that is this Thoroau-esque rapping recluse, it's the beat of his own drum.
-evidence-roc_germany-ftd--EM0613
Download:
Evidence - Roc Germany
Perretta spoke recently to a reporter at HipHop DX and said the beats on Green Tape, 20 in all, do not represent where he's at with his music right now. They're not arranged collage-like into an abstract piece of art, like with Alchemist's Russian Roulette, nor are they substitutes for elevator music or third date ambiance. They're just old beats Perretta had on his computer, beats with soul, odds, ends and instrumentals that make up a niche within a niche of the underground hip-hop market. Rather than bump these in the car, you're better off getting stoned, fiddling with the freestyle and seeing if you can pick up any formal details of Perretta's production. That is to say, the Green Tape is a serious collection for a serious head, not meant for the rap music neophyte.
-evidence-3_murals-ftd--EM0613
Download:
Evidence - 3 Murals
Tracks "Roc Germany," "Synth Moments," and "Bong," are standouts, holding the attention of a writer more interested in words than the intricacies of the Esoniq ASR10, Akai MPC or Reason 6. Perretta loops a simple drum pattern, adds a few layers of keyboard or guitar and mixes in a sample, from Wild Style scenes and spray-paint FX on "Murals" to a manic, seven-second guitar clip on "Bong." For a guy as well-traveled and (frankly) old, 39, as Perretta, these beats come across as rather simple. But that's their beauty, as well as their function. They're breakbeats for emcees. They give a sense of Perretta's creative space, and invite collaboration. I just don't recommend them for casual listeners. Perhaps check out a beat or two and get ready for Lord Steppington, Evidence's long-awaited collab with Alchemist coming later this year.
-evidence-synth_moments-ftd--EM0613
Download:
Evidence - Synth Moments
-evidence-bong-ftd--EM0613
Download:
Evidence - Bong