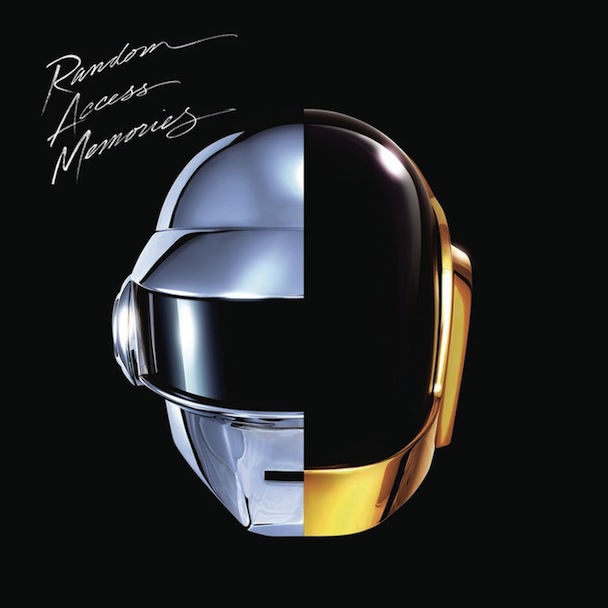 Album Review: Daft Punk - Random Access Memories
Artist Name:

Daft Punk

Album Name:

Random Access Memories

Release Type:

Album

Release Date:

Record Label:
Label Location:
Review Author:
Review Date:

EM Review Rating:
Five years and one inflated recording budget later, Daft Punk's fourth studio album Random Access Memories has finally hit the shelves in a display of major label fireworks. So captivating that the lead up to the release of RAM wasn't just a brilliant marketing campaign, it was a cultural event—teeming with a global red carpet of oohs and aahs as the duo lifted their star studded covers at a painstaking pace. In a time when hotels have turned into makeshift studios with bedroom producers topping the charts, the release of a lavishly crafted album that would cost an arm and a leg for any flavour of the week to produce couldn't be more contemporary.
Not to barrage the album by immediately diving into its faults, but the first half of Random Access Memories suffers from a rather gloomy tracklist. Numbers like "Within" and "The Game of Love", while good at being their sorrowful, angsty selves, are the sort of lulls that would have a better place in the middle of an LP, after the initial wave of pumped expectations and excitement have washed over. And while many would say throwing Julian Casablancas through a soft vocoder in "Instant Crush" was taking the road less traveled by, his croaky vocals have yet to make a debut in a dance record, which could have yielded fresher results than the chosen synth pop direction that comes off buttoned-up and predictable. That being said, "Giorgio By Morodor" has been instantly held up as a fan favourite as it rolls around in the modular synth driven stomp many immediately seek out in a Daft Punk record. The French touch is strong in this one, and with Giorgio's monologue inexplicably guiding the progression of the track, Daft Punk has tastefully captured the innate beauty of snapping a changeless moment in time and running with it.
Giorgio-by-Moroder--EM0513
Play:
Daft Punk
 - Giorgio by Moroder
The tracks to follow, numbered 6, 7, and 8, are undeniably the album's juicy centerpiece—a twenty minute catharsis that is worth owning the record alone. It kicks off with the whopping 80s bounce of gated stadium snares, mammoth bass lines, and sparkling reel to reel tape, fizzing on top of the intro like popped champagne. "Lose Yourself to Dance" doesn't have quite the same airwave potential as its summer heartthrob "Get Lucky", but its four on the floor groove slams, giving way to Nile Rodger's panty-throwing guitar work and Pharell's lovesick vocals. If there's any solid consensus on Random Access Memories, it's that these two need to be pushed back into the studio together with their own full length record deal. 
Lose-Yourself-to-Dance--EM0513
Play:
Daft Punk
 - Lose Yourself to Dance
The album's fond groove dissolves into a desolate Bowie-esque landscape to set the scene for "Touch". A glamorous Broadway extravaganza that could be the duo's "Bohemian Rhapsody", if only people could swallow their guilt and insecurity for liking cheesy tear-jerking ballads. It's an immaculate production from top to down, with warm Rhodes and tender strings to sink you into your seat, while whimsical keys and trumpet diddlys sap the stresses of the day away. If "Touch" doesn't paint a smile on your face, then the concept of this album has failed you before you even decided to hit play. The Paul Williams collaboration is nothing short of a masterpiece, with a linear arrangement that journeys through sweet choirs, a full orchestra, and even archaic electronics (sporting the rare ondes Martenot). "Touch" is an artistic achievement for the duo, no matter how long it takes for current social norms to mull it over.
Play:
Daft Punk
 - Touch
Love it or hate it, the tail end of the record is a mesh of places and eras that can be fillers for some, and gems for others. Co-produced and sung by Todd Edwards, "Fragments of Time" captures the easygoing and balmy moods of the west coast, sunshine et al. The song is quite a step from the expectations of fans who longed for another "Face to Face", but Todd's vocal performance can still be pinned as one of the strongest on the album. Next is "Doin' it Right", a tune almost void of any melody, with the music thriving on the beat of an 808 drum machine and not the other way around. Coupled with the echoes of Animal Collective's Panda Bear and a lush vocoder belting the album's catchiest robotic hook, the track is sure to be a modish hit DJs will be reaching for to fuel the dance floor.  Closing out the LP in a fiery finale of live drum breaks, tense synth risers, and edgy guitar chords, "Contact" is the only track carrying samples on the album. The DJ Falcon collaboration was written before their Alive 2007 tour, and you can certainly hear its age as it bounds a coat of electro nostalgia that feels a bit out of place in the entire LP.
Play:
Daft Punk
- Doin' it Right
Weeks into the hoopla of hype surrounding RAM, Thomas Bangalter touched on the lack of individuality in the bubbling EDM genre, saying that the artists are suffering, "an identity crisis". "You hear a song, [but] whose track is it? There's no signature," he lamented. He goes on by pressing Skrillex as an example, pointing out that the artist has been "successful because he has a recognizable sound". "You hear a dubstep song, even if it's not him, you think it's him". And while it is inarguable that the duo has established their own signature sound, there are pockets of this record where they find too much success in mimicking the high budget studio productions of the 70s and 80s. Here lies the dilemma that has cultivated such a widespread difference in opinions. Are the two merely restoring antiques or are they digging deeper into their older influences and coming out with closet legends to bring up something new? Many were hoping for the latter, but after a long run through this record it's clear that Random Access Memories is a mix of both. Not a fault to the recording when it stands by itself, but relative to Daft Punk's discography that has seen itself fill to the brim with crude classics, the concept of updating the old is at times, overshadowed by their past cutting edge productions.
The divide in criticism comes down to whether you're willing to approach Random Access Memories with a clean slate, instead of setting the album alongside their already well-established catalog. It should come as no surprise that Daft Punk was not going to pump out another stripped down house bible like Homework, or a sample-based electronic escapade like Discovery—and if the pseudo-soundtracks that followed told us anything, it's that the duo is relentless in delivering business as usual. Regardless of their knack of changing course, Daft Punk has always carried a keen sense of consistency in their attention to detail when tuning sounds and songwriting. There's a telling truth when Bangalter recognizes a signature sound coped by many EDM artists today—it's that the success of Daft Punk impersonations are few and far in between. Sure, the internet has seen its share of periodic fakes, but all have been laughable at best. After finishing RAM many will say that while Daft Punk carries a signature sound, the true greatness of their talent is that it was nearly impossible to emulate.
It's a quality that can only be prescribed to legends; think Hendrix playing his Stratocaster guitar or Eno programming his DX7 synthesizer. There are points in RAM that let the awe of being at the hands of unattainable magic slip away, and that comes with the duo's choice to refurbish what many have already done 30 years ago. For Daft Punk, a group that indulges in the masquerade of being sci-fi superheroes, Random Access Memories leaves you suspecting that they might just be human after all.