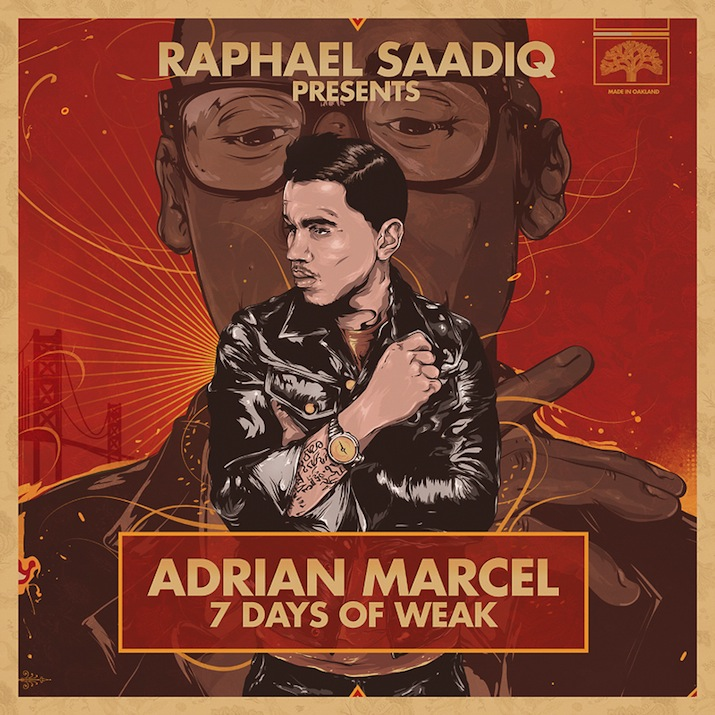 Album Review: Adrian Marcel - 7 Days of Weak [Album Review]
Artist Name:

Adrian Marcel

Album Name:

7 Days of Weak

Release Type:

Album

Release Date:

Record Label:
Label Location:
Review Author:
Review Date:

EM Review Rating:
Singer Adrian Marcel can be easily mistaken for lending soulful vocals on Mariah Carey's anticipated new single "#Beautiful". Strikingly, crooner Miguel serves as honorary featured guest for that song. Perhaps, Marcel will be featured on the remix or future recording prospects relating to the diva. This notion goes to show this particular artist, backed by soul singer Raphael Saadiq, has the potential for industry takeover. His latest offering, 7 Days of Weak, further cements his unique artistry and not some manufactured in-the-studio gimmick.
Marcel, who draws vocal comparisons to singers Miguel, Joe, John Legend, and Robin Thicke while adding a fresh element to R&B/soul, drops a gem suitable for the summer. His 7 Days of Weak is a conceptual masterpiece reminiscent of a 1980s and 1990s R&B sound.  It minutiaes the lifestyle of an entertainer/celebrity, and all things endured during the seven days a week that makes him a weak and seamlessly imperfect angel.
The drama instantaneously begins with the suspenseful "Caught Up," a midtempo every man can relate. The lyric "My girl keeps calling my phone/I don't even wanna answer right now/'Cause if she knew what I was doing in the bed/She will have a heart attack" lets listeners know temptation makes anyone weak in the flesh, as Marcel was lured by the web of her desire. The Justice League produced "Killa" uses a sample of the Luniz's 1995 hit "I Got Five On It", which gives this single a death-defying feeling on a bed spread under the bed sheets producing a lustful inferno. The characteristics in the Rick Ross feature "Dope Dealer" are compared to the characteristics of a woman's love making Marcel fiend for her like an addict.
Interestingly, the interludes are polished with current themes that make most artists weak and easily preyed upon if not cautious: hidden agendas ("Southwest"), thirst ("No Thirst"), substance abuse, and hatred among peers. The laid back mo' money, mo' problems inspired track "I'm Still" references him being the same person he was before, not letting fame corrupt his character. It gets lonely when on the road to success as Marcel drowns in his deepest solitude in the most expressive, dark, and territorial ballad "Waiting."
Adrian Marcel proves he is cut from the finest cloth of great musicianship. He gives R&B the fresh smell of leather after the genre loses its crisp scent to outdated kush, liquor that attracts fruit flies, and the decayed odor of bodies not showered after engaging sexual intercourse as described in the content. It's a plague that diminished imagination and creativity in the music. Though, 7 Days of Weak produces such content forthrightly to enhance its concept while living up to its title. The album is a summer banger that makes most speaker boxes and iPods overheat.