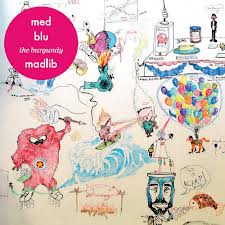 Album Review: Madlib, Blu, & M.E.D - The Burgundy
Artist Name:

Madlib, M.E.D, Blu

Album Name:

The Burgundy

Release Type:

Release Date:

Record Label:
Label Location:
Review Author:
Review Date:

EM Review Rating:
When a collaborative EP from Madlib, Blu, and M.E.D falls into your lap, you might know what you're getting into. Both rappers have worked with Madlib in the past as well as one another, and if you had an inkling that the project may be geared toward the West Coast trio's traditionalist meets futurist indie rap crossover audience, you're getting the right idea.
The dusty, loop dominated, bass oriented production is a familiar sound that couldn't be mistaken for work by anyone else but Madlib. As expected, neo-soul sensibilities thrive within the jazz inflected, quasi-psychedelic beats, but no matter how much you want him to, Madlib fails to achieve moments of dingy jukebox perfection that manifested in Madvillainy or the slightly off, organic genius birthed by the producer's collaboration with the late J Dilla under the name Jaylib.
A Jazz-hop joint by definition, "Burgandy Whip" opens the EP and proves to be its best asset. It's dreamy with a low key bass driven loop, but it's the hook as it rides on a keyboard riff that sounds more suited for a 70's game show, almost interrupting the melody and holding the track back from it's true potential. M.E.D and Blu drop verses that qualify as solid but fall short of standing out. The acapella version places the lyrics on display, emphasizing the fact that they are literally just talking about driving a car and smoking weed and prompting the question as to why an acapella version was warranted.
"Belly Full" is an adequate Madlib production, hosting a baritone sax loop and a pleasant sample, while "Arrangement," in its efforts to go the extra sonic mile, holds true to it's title and presents an arrangement, or hodge podge, of sounds. Mashed up snippets of warped speech and unconventional sounds, all cut off prematurely and chopped together, creates an eccentric rhythm, but as the song progresses it teeters on losing its focus and threatens to throw off your head nodding rhythm. 
Georgia Anne Muldrow's guest production trades in Madlib's smooth loop rhythms for experimental, funk/jazz-hop with disorienting thumps pitted against wavy trance sounds, demanding full attention and staging the verses as secondary to the beat.
Each track confirms the EP's intentions to emerge as a beat driven project, but conceivably, the brevity of it–only featuring four different songs, the other tracks acapella and instrumental versions–and its spontaneous release, were obstacles in achieving excellence in production, as well as lyricism for that matter.
Though The Burgundy is hardly a classic, it's worth a listen–plus the art work is dope and you can buy it on a burgundy colored vinyl, two aspects that just might be catering to that indie rap crossover crowd...