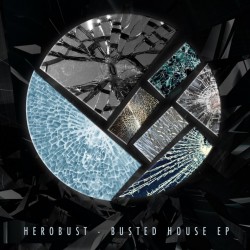 "Have you ever wondered what it would be like to combine house and trap?" Hayden Kramer, better known as HeRobust posted this on his Facebook yesterday. It's an intriguing thought to ponder and one similar to the guy who sat down one day and thought to put together peanut butter and jelly, ultimately creating a delicious treat. Much like PB&J, this new Busted House EP from HeRo is an awesome concoction.  He blends the massive dance hall sound of house music with the deep 808s and fast hi-hat sounds of trap music resulting in a unique and gigantic sound that slaps the hair of your head. 
The first track is very aptly named, "Arnold Facepalmer." Like an Arnold Palmer, this track is a sweet and soury mixture to make your face pucker with grit. This track has a slow groove filled with electrifying synths, trill rolls on the hi-hats and a groove to make your body move. It is a great introduction into the sound HeRo is throwing down. 
Following "Facepalmer" is the track "Assault N Peppa." I can't help but to notice a theme in his track listing; "Arnold Facepalmer," "Assault N Peppa," "Flossed N Found," "Girls Gone Wildebeest." They are all mash ups of different preexisting combinations. This comparison follows parallel with his futuristic intentions. In "Assault N Peppa," we get this heavy dark vibe. It's as if he combined the dark primal groove of PANTyRAiD and paired it with dark glitchy trance synths. This song delivers as well as the rest of the album. 
"Dayum son, where'd ya find this" starts off "Flossed and Found." Once the initial kick drum hits, the beat grooves, swells, and takes you on a melodically chaotic ride. Dance hall synths and percussion are accompanied with distorted deep talk-box samples. This track blends together trap and dance hall electro in an intriguingly unique fashion. 
Wrapping up this 4-song banger is the song "Girls Gone Wildebeest," a title guaranteed to deliver something super buck and indeed it delivers just that. It leads in with a fast paced moombah-esque beat. As quickly as it began, it starts progressing into this incendiary sound worthy of Dillon Francis's stamp of approval. HeRo delivers a breakdown section in this song that it sure to get everyone thrashing around. Be sure to check out the entire album.