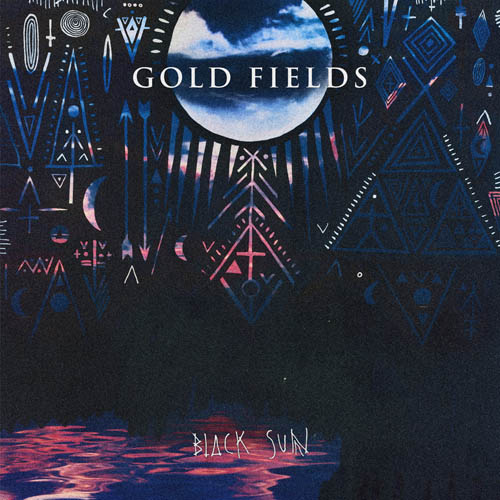 Album Review: Gold Fields - Black Sun
Artist Name:

Gold Fields

Album Name:

Black Sun

Release Type:

Release Date:

Record Label:
Label Location:
Review Author:
Review Date:

EM Review Rating:
For the past decade, rock bands playing dance music have been a dime-a-dozen. From the early onset of Death from Above 1979 and The Killers on the rock-leaning side to the later, more house-influenced Cut Copy and Friendly Fires, the trend has been ubiquitous. After little to no dissipation in the musical movement, it's safe to say that it's here to stay, especially given the "dancification" of modern pop music. As a result, the prolonged inundation of the genre has made it vastly difficult for bands to develop an original presence. 
Enter Australian quintet Gold Fields with their debut album Black Sun, out now on Astralwerks, whose roster reads like a history of contemporary dance rock and pop. On an aesthetic level, Gold Fields fit right in. But when it comes to originality and relevance, the band doesn't stand out on Black Sun.
"Meet My Friends", the opening track, is a perfect case study. Though this genre is consistently influenced by the music of yesteryear, this song sounds dated. These days, elements updated from New Order, Soft Cell, and INXS are welcome. It's been long enough to rekindle that fire. However, rehashing the updates already done in the last decade isn't helping anyone get ahead. The overbearing synthesizers, falsetto pre-verse hook, and the shout-along chorus sound too much like the deluge of synthesized hard rock bands that flooded 2006. Every part of the song feels a bit forced, leaving little that's memorable. 
Second track "Dark Again (Lights Out)", despite the inane subtitle, is a breath of fresh air after the dim mess of "Meet My Friends." The lighter synths, brighter guitar licks, and thick harmonies give the listener some hope. The track evokes some toe-tapping, but the individual instrumental elements continue to sound commonplace, as if they're stock sounds on a synthesizer. It starts to become apparent that Gold Fields don't necessarily bring anything new to the table.
Track three is the highlight. "Treehouse" proves to be the strongest cut on Black Sun. Everything about the song, from the wood block percussion to vocalist Mark Robert Fuller's hooky lines of adolescent love, are flat-out infectious. The listener best be prepared to let them rattle around in his/her skull for a few days. If there's any negative criticism, it's that the song could benefit from a real chorus, which never comes after the repeated refrain. Instead, it feels like something bigger is going to come, but it never does. Fortunately the preceding parts of the song do the trick overall. (It's worth noting that this song was originally released over two years ago, perhaps inherently explaining the disparity of quality between this track and the rest of the album.)
[soundcloud url="http://api.soundcloud.com/tracks/53424919"]
As the album continues, it's easy to lose interest. The songs start to run together, and the same sounds are recycled. "Moves" and "Thunder" have the same tone and purpose as "Meet My Friends". "The Woods" brings back the light-hearted looseness of "Treehouse". Each track stays in a sort of purgatory: a middle-ground of mediocrity. This is likely because Fuller's vocal range doesn't allow him to reach any levels of power, and the band follows. The lyrics aren't doing the vocals any favors either. Routine and often silly lines appear throughout the album, inciting an inclination that the band doesn't really have much to say. Astralwerks proclaims that the album packs "plenty of emotion," but the vocals and lyrics don't leave the listener feeling much of anything. 
Without a fearless leader, an army cannot march forward. Without a provocative frontman, this particular journey becomes a deadpan approach to dance music. Gold Fields prove to be a pony with only a few tricks: a consistent disco upbeat (save for "Ice," the banal, Depeche Mode-lifted ballad), reverberated guitars and keys, a punchy bassline (often the star of the show), whispery, single-octave vocals, and some overlayed tribal drums. That's the formula. It's in virtually every song. Each change seems obvious; nothing feels unexpected. 
[soundcloud url="http://api.soundcloud.com/tracks/71243947"]
As with almost any major release, the album doesn't come without its strong points. The musical arrangements have their moments, such as the intertwined hand-claps, toms, and bassline of "Treehouse" and the scale-sailing guitar hook at the end of "Thunder." The production is also full and enveloping. However, the lack in songwriting originality and diversity between tracks digs Black Sun into a hole from which it can't climb out. There are plenty of places in contemporary rock where repeated sounds and dynamics can fit into a signature formula and propel a band into a perfect niche, but this brand of dance rock is not it. In a genre so saturated, Gold Fields simply don't bring enough boldness or punch to promise any meaningful remembrance.