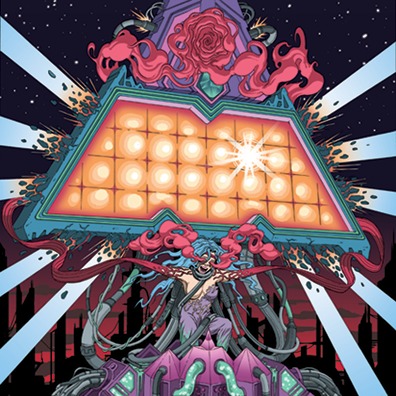 Album Review: The M Machine - Metropolis Pt. II
Artist Name:

The M Machine

Album Name:

Metropolis Pt. II

Release Type:

Release Date:

Record Label:
Label Location:
Review Author:
Review Date:

EM Review Rating:
The rise to fame has been fast and mysterious for the San Francisco electronic trio known as The M Machine. Only last year did they drop Metropolis Pt. I, their acclaimed first foray into the industry, taking it by storm with the somber yet dreamy track "Faces". Similarly, the relative unknowns have continuously topped the HypeM charts with their stellar remixes – most recently a revision of Bruno Mars' "Locked Out Of Heaven" – and wowed crowds with their signature stage presence, the giant "M" light show.
In case you didn't notice on their first release, Metropolis Pt. I, it was, well, a part one. Therefore many of us have been eagerly awaiting the follow-up album, which OWSLA has been releasing track by track over the last few weeks. As one would expect from The M Machine, Part II features a variety of electronic genres all spun together via the group's brooding industrial sound. While exploring the album, one might find the tracks opposing one another, yet ultimately coming together, like facets of the mind.
"The Palace", featuring Blake Hazard, sets the stage with an epic dubstep intro that gives way to "Ghosts In The Machine", a flashback to 80s hit "Money For Nothing" with pennybirdrabbit. Then you slip into "Tiny Anthem", a slow-rolling tribute to better days that starkly contrasts the fast-paced drum machine known as "Moon Song". "Schadenfreude" pays homage to electro house fans with more traditional climbs and dirty drops into lazers and bass. And, finally, "Luma" transports you to a far off galaxy with one of the more beautiful melodies I've had the pleasure of hearing –  I've already replayed it countless times.
 [soundcloud url="http://api.soundcloud.com/playlists/2984046" params="" width=" 100%" height="450" iframe="true" /]
With Metropolis Pt. II sure to meet the expectations set by the first, The M Machine have established themselves as a standard for the electronic genre. Catch them at Ultra Music Festival in March, and keep up with OWSLA for new releases.