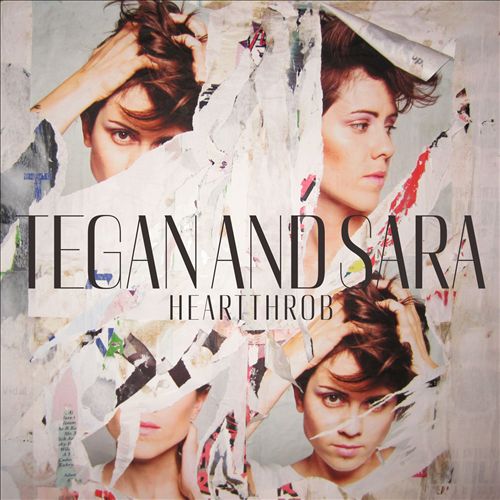 Album Review: Tegan & Sara - Heartthrob
Artist Name:

Tegan & Sara

Album Name:

Heartthrob

Release Type:

Release Date:

Record Label:
Label Location:
Review Author:
Review Date:

EM Review Rating:
Tegan & Sara Quin have been actively making pop music together since 1995 – 18 years ago. Their new album, Heartthrob, out now on Neil Young's label Vapor Records through Warner Bros. Records, is their seventh proper album. When one thinks of a band in this stage of their career, it's tough to expect an album that evokes such descriptors as "refreshing" and "exciting." One would also likely steer clear from predicting the album to be one of the best in the artist's expansive catalog. But most of all, it would be a stretch to think that the artist would take any real risks, especially an artist with a large and loyal established fanbase. Frankly, even some of the so-called best, most beloved artists usually have only several (sometimes not even several) albums that prove to excite and challenge fans and critics. By the third or fourth go-round, it's safe to say even some of the most obedient fans are wary. Yet this Calgary duo has defied the odds. Heartthrob is like no album the sisters have made before. And it couldn't have come at a better time: after their sleepy last outing, Tegan & Sara needed something fresh. Heartthrob's sophisticated, strongly written pop anthems carry the Quins into the next phase of their career.
The most striking difference this album brings to Tegan & Sara's discography is the production; it's almost completely electronic. Sure, there were hints of new wave beeps and techie beats crawling around their previous work, but Heartthrob pushes all the way to the edge of the circuit board. In the last 15 years, there has not been a shortage of established artists putting away their Fenders and picking up MPCs to do something "new," to make those old ideas sound just a little less rehashed. And the result is typically underwhelming. Hearing that this guitar-keys-bass-drums rock group had done the same, it was natural to have an "oh no" moment. But Heartthrob is far from just reworked old B-sides in 16-bit. In similar fashion to the Yeah Yeah Yeahs and Robyn, Tegan & Sara have vastly improved upon their already-proven craft by sending it through pipes of compressed beats and vibrant synthesizers. 
[soundcloud url="http://api.soundcloud.com/tracks/61267056"]
The Quin sisters are known for their uncannily similar voices and airtight harmonies – and they are abundant on this record in the best way. Some of their most dynamic (both melodically abrasive and airily sweet) vocals to date do a sugar dance on top of the arpeggioed synths and pungent kicks and snares. Their newly found electronic pop quill tightens up the songwriting approach and results in cripplingly catchy songs that fly by. They're so effortless that they could be twice as long and still feel right. "Drove Me Wild" and "Goodbye, Goodbye," two of the most marketable tracks, could fit right into the mindless house-inebriated pop landscape, but also make the rounds at college radio. It's that dichotomy that makes the record special and unique. That's the beauty of a band like T&S jumping into this realm; you get bang for your buck. It's infectious, swirling pop anthems with mindful themes and creative twists.
It's not all dance floor fare, however. The Quin sisters' ballads are still here, as expected. One of them is "How Come You Don't Want Me," co-written by Jack Antonoff, of soon-to-be tourmates fun. and former tourmates Steel Train (T&S also covered Steel Train's exceptional "Turn Pike Ghost" in 2010). Antonoff's signature quirky tone and rhythm is present and gives the polished record a little bit of needed roughness midway through. After "How Come," the record slows down a bit to give way to a couple of downtempo numbers, including "Love They Say," the only song on the album featuring the sisters' signature acoustic guitar strumming. It has the most traditional production of any of the tracks. In perfect irony, it's the weakest song on the album, both lyrically and melodically. The Bird & the Bee's Greg Kurstin, who has also worked with Beck, Foster the People, and Sia, also contributes production to the album, but it's obvious that Tegan & Sara don't need assistance on every song; the tracks they wrote and produced unaided are just as strong. Perhaps their own recent Top 40 songwriting contributions to David Guetta and Carly Rae Jepson have given them the dose of bright lights and sheen they needed to reinvigorate things.
[soundcloud url="http://api.soundcloud.com/tracks/75049248"]
The album's strongest element, again, is its ability to juxtapose shimmery contemporary pop with themes more sophisticated than its contemporaries. Heartbreak, unfaithfulness, deception, and loneliness aren't themes just touched upon with fleeting feeling and forced metaphors. The themes are present throughout and consistently present. "Shock to Your System," a stellar closing track, uses simple prose to compose an argument within the protagonist's head. The hero(ine) is emotionally down for the count, but an inner spirit is berating and questioning itself back to life. It's a call to arms, which is a perfect way to encapsulate this record's theme. Strength through personal turmoil is not only a recurring lyrical theme, but the album itself proves to be a summoning of comeback weaponry for the sisters. After the dust settles, the Quin sisters' shiny new guns are drawn and ready. Tegan & Sara are still here, and they're as strong as ever.