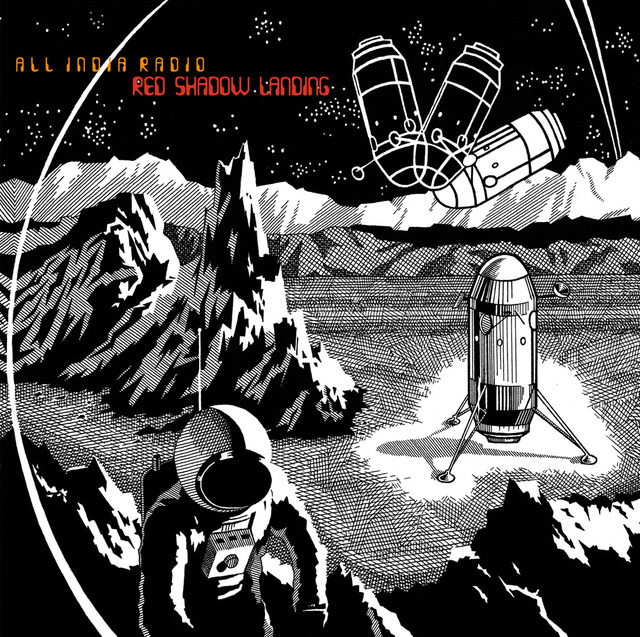 Album Review: All India Radio - Red Shadow Landing
Artist Name:

All India Radio

Album Name:

Red Shadow Landing

Release Type:

Release Date:

Record Label:
Label Location:
Review Author:
Review Date:

EM Review Rating:
There is something about the genre of post-rock that keeps us intrigued and yearning for more. Is it the organic structure the songs take? Is it the interpretive aspect of the genre? Is it the technical side that makes us drool? It could very well be the combination of all of those elements. But one thing is for sure, post-rock is an ever-growing niche that has been slowly and surely gaining more attention these days.
So take a deep breath, you are about to plunge into the world of All India Radio. This post-rock and ambient band is based in Melbourne, Australia and are one of the handful of post-rock bands that have managed to break through that thick barrier leading to mass media exposure. The quartet has managed to rake in the fans with their constant release of material, nine albums since 2000 to be exact. In their fruitful career, their music has been featured in CSI, Michael Moore's Sicko, and earned a short feature article on the notorious Wired magazine. Their exposure doesn't stop there, I was just going to name a few. Fans and critics of All India Radio even compared them to the greats such as Mogwai and Boards of Canada.
Their latest album, Red Shadow Landing, showcases the most developed and polished sounds they have to offer. Even though the album has been out for some time, it is a hidden gem that has somehow slipped past many radars. So go ahead, search them and play any song of theirs. You'll notice downtempo aspects glazed with ambient and highly texturized layers with intricate nuances woven between the seams. You'll find such reoccurring moods and sounds in Red Shadow Landing. 
This album urges you to suit up and grab a jet-pack because it's meant to shoot you into space with its phenomenal balance of ambient and downtempo mixed with post-rock. Immediately after the first emerging ambient seconds of the opening track "The North Sky", you are put in a position of serenity and awe, as the soundscapes with the occasional chimes from the glockenspiel slowly abduct you upwards to the calming blue canopy we commonly call the sky. It's a blissful track that sets you up for the next step of your interplanetary odyssey and you will soon realize, just as I did, Red Shadow Landing is indeed the score to our outer space voyage.
Play:
All India Radio - The North Sky
Throughout the album, you find yourself more and more aloof from your normal state of mind. All India Radio's masterpieces tend to draw your thoughts away from whatever they were dwelling on and send them into an epic story line that's pretty hard to escape. You can't help but be drawn in by tunes like "Golden", which channels the haunting progressive styles of The Dark Side of The Moon by Pink Floyd or the calmness and tranquility of Brian Eno's pieces. The slow drumming, the echoing guitaring and the haunting strings in "Golden" suck you out into the stratosphere and beyond, leaving you in zero gravity.  Departing from the norm, your ears and eyes are finally open. 
Play:
All India Radio - Golden
All India Radio can make pretty melancholic tracks, but not all of them are. Sure, it may be easier to create depth in a song, but it's not always the answer. In the middle of Red Shadow Landing, it appears as if we have completed journey to another world, and have begun to embark in an entirely different journey through the mind. "Tomorrowland" is purely ambient with a spacey and alienated feeling of home. All India Radio introduces the guitar, which gives as a sense of familiarity of reality. The distortion of it, however, also snaps us back in a dreamy other-world where we have our first experience with asthenia, a term adopted by the space program describing the breakdown of life while away from home. The track reminds me of a scene out of a book I recently read called The Four Fingers of Death by Rick Moody, where a group of astronaut colonists embark on a multiple-decade crusade to Mars in a small confined space and have to deal with anticipation and excitement of the unknown. "Tomorrowland" is tangible.
Play:
All India Radio - Tomorrowland
As Red Shadow Landing comes to a close, feelings, moods, and styles rollercoaster. The latter half of the album is a mixture of ambient tracks and more traditional post-rock styles. One of those traditional post-rock-style songs happens to be "Like A Butterfly". Unlike a majority of the tracks, "Like A Butterfly" is unusually upbeat and positive-feeling. Being the second to the last track of the album, it helps close out our quest for our curiosity for the unknown and reels things back to the basics. This particular tune is the only one out of the bunch to incorporate vocals, which sets off signals that this song is indeed the climatic point of the album despite being the second to last.    
Play:
All India Radio - Like A Butterfly
Red Shadow Landing is an extraordinary piece of work. It has plenty of gorgeous textures, expertly layered elements, and masterful execution. The sounds you hear are the yielding fruits of years of experience in post-rock and ambient. They artfully manipulate the imagery you produce and the feelings that come from deep within. The descriptions above are by no means correct or what All India Radio had intended for us to get from the album. These jumble of words are the yielding results of listening to Red Shadow Landing, making my synapses fire off interpretations and feelings tailored to my liking. You may get a completely different interpretation and imagery when you listen through this album. To each his own. Regardless of what is intended, we just need to sit back and listen in awe as All India Radio bows out with the track "Afterlight". This epic but calming outro may mark the end of the album, but the beginning to another. 
Play:
All India Radio - Afterlight
Houston, we have liftoff.