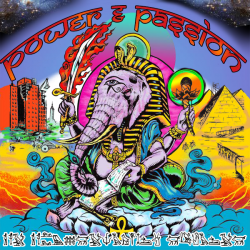 Album Review: Mr. MFN eXquire - Power & Passion
Artist Name:

Mr. MFN eXquire

Album Name:

Power & Passion

Release Type:

Release Date:

Record Label:
Label Location:
Review Author:
Review Date:

EM Review Rating:
I have like, a visceral reaction to Mr. MFN eXquire's music. From his earlier mixtapes that had the underground buzzing at a frenetic pace, to his current major label debut, Power & Passion (Universal Republic), the dude never ceases to get my emotions wylin. 
Apart from eXquire's music and lyricism being awesome in general, his come up story is pretty inspiring. I mean, sure it's no Jay-Z from crack rocks to basketball teams kind of rise to fame but eXquire's got this unmatchable hustle that makes his music and success particularly outstanding. Basically, dude was working a shit job as a parking attendant at Con Edison, so he started writing on the clock. From that, his mixtape Lost In Translation was born, and it was awesome. Lost In Translation pretty much epitomized this amazing duality that eXquire possesses, which is evident in just his rap name itself. There's the MFN (Muthafuckin') part that loves to get wasted and mindlessly sleep with women, but there's also the eXquire portion which is actually pretty cerebral and emotional. 
But since Lost In Translation, it goes without saying that eXquire's run into some pretty major junctures in his life. For instance, getting signed to Universal, which came as a bit of a surprise since it seemed like he was pretty comfortable with being bout that indie life. But once fans got over their "sell-out!" gripes, it kinda made sense since eXquire had pretty much outgrown the underground scene, because he is incredibly talented. 
So now we get his major label debut, Power & Passion, which comments on eXquire's new life and what it's like to have a dream, work toward it, and then actually achieve it. It's sort of the "now what?" of that equation. Oh, and  it shows absolutely no sign of watered-down-ness by suits who don't care about music outside of "the numbers" and "traffic" and "analytics". Nope, whoever's giving the green light on this material definitely gives a shit. 
The record opens with "Cari Zalloni", which is actually the name of the guy who design Cazal eyewear (which eXquire is kind of known for as he wears the frames for most if not every performance). The song opens with this rapturous choir, and eXquire thunders in with observations on red wine, steamed fish and the zebra rug his friend/sometimes collaborator Goldie Glo bought. eXquire reminisces about the days when people told him he wouldn't amount to much, but here he is now with Martin Margielas strapped to his feet, and Cari Zallonis on his face. The track has this super Rocky-Balboa-running-up-the-stairs vibe without being obnoxious. Yeah, eXquire's rhyming about things he can afford now, but it's with this complete "holy shit how did this happen?" awareness.
And this awareness segues pretty nicely into the following track, "Cheap W****s & Champagne", in which eXquire gripes about the things that piss him off in life. Women, his contract, his lease, you name it. Regular shit, y'know? Produced by Harry Fraud, "Cheap W****s & Champagne" has this twisting, warped beat that just begs for eXquire's stentorian voice to guide its listeners. Then we take a quick turn into "Telephuck", the dark but playful El-P produced song that features Gucci Mane (!!!). 
[soundcloud url="http://api.soundcloud.com/tracks/63032179" iframe="true" /]
Halfway through the record, it reaches an Interlude which serves as a commentary about people who deem themselves "real n*ggas". Stereotypically, this title would allude to drug-dealing and getting wrapped up in violent situations as a source of pride. And it's this notion that the Interlude and the following song, "Aggin Lear" try to combat. Over an absolutely electric, head-spinning SpaceGhostPurrp produced beat, eXquire and Goldie Glo rhyme about hating your life enough to the point where you've got your nose to the grindstone (or are writing rhymes at the job you hate) in order to change it drastically is "real n*gga" comportment (never thought I'd see those words next to each other). 
The album ends with "The Message Pt. 1 & 2", which is incredibly fitting since, not unlike eXquire himself, is a multi-faceted song. The first half of "The Message" is fun and spirited, as eXquire rhymes about Clockwork Orange and corduroy. Then, the song curls into a darker headspace as eXquire gets (somewhat unsurprisingly) increasingly aggressive and narrates different methods of killing people, and ultimately peels out with a blow at "cracker-ass bloggers trying to downplay my intelligence". 
[soundcloud url="http://api.soundcloud.com/tracks/66273947" iframe="true" /]
Overall, Power & Passion is a phenomenal record about a rapper who was unhappy with the direction his life was going, so he decided to do something about it. eXquire worked his ass off to get where he is, and he deserves every ounce of success that has come his way thus far. His green-ness is incredibly vulnerable and sobering and exactly what rap needs right now. This guy rules. End of story.