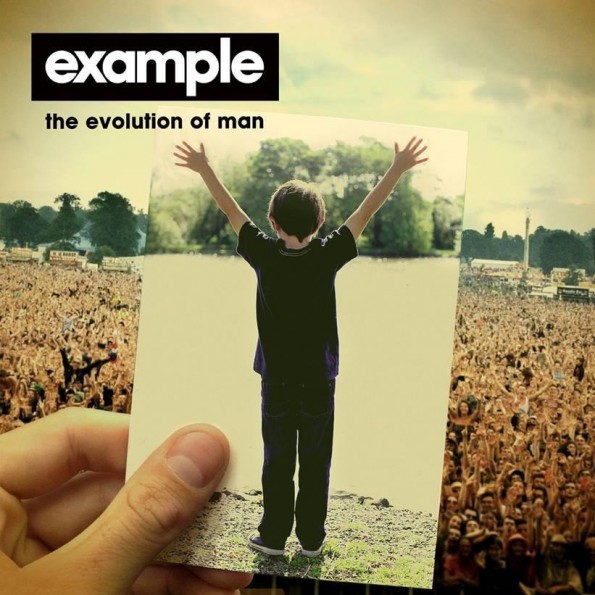 Album Review: Example - The Evolution Of Man
Artist Name:

Example

Album Name:

The Evolution Of Man

Release Type:

Release Date:

Record Label:
Label Location:
Review Author:
Review Date:

EM Review Rating:
British singer and rapper Elliot John Gleave, better known as Example, has just released his fourth full album, titled The Evolution Of Man. The album features the oh-so popular single, "We'll Be Coming Back," his collaboration with Calvin Harris that took the summer by storm, and also comes in a deluxe edition with 8 bonus tracks. Most impressive about this release - the depth of talent found in the production credits, and resulting diversity, absolutely astounded me. You'll hear everything from hard rock/metal in "Blood From A Stone" with Zane Lowe to the melancholy vibes of "All My Lows" with Dirty South. Overall, the experience was top notch, though I was a bit disappointed in a few tracks, namely "Crying Out." Maybe it's because I'm quite a fan of Tommy Trash, but the track really just didn't live up to my expectations…
However a number of tracks really stood out to me, especially those on the deluxe edition, which is where the progressive electro house really took over.  First "Perfect Replacement" stood out with its short synth bursts and heavy drops full of grit; not surprising as Feed Me produced the track, lending his filthy touch.  Next, Example teamed up with Dada Life in the aptly titled "Let's Be Fucking Stupid." The lyrics, "Cuz' life's so much more fun when we act dumb," herald a signature banana-rific drop from the Swedish duo, something that would fit perfectly into one of their ragers.  Dyro, the artist from Holland who has become a new fan favorite, claims my next favorite song off the album, a remix of "Close Enemies." Example's vocals perfectly balance with Dyro's hard-hitting progressive house beats, really shining through the climbs and delivering a perfect blend of bittersweet and excitement. Finally "Someone To Die For" sports Dillon Francis' love for moombahton with a 111 BPM and a smooth minimal vibe. You also get to hear Example really break it down and get into his rap for this track. Again, this is a very impressive and diverse release for the British vocalist, with too many tracks to give the album review true justice. If you happen to be in the land down under, check out Example who will be touring with Stereosonic during the next few weeks.
Perfect-Replacement--EM1112
Stream:
Example
 - Perfect Replacement
Lets-Be-Fucking-Stupid--EM1112
Stream:
Example
 - Let's Be Fucking Stupid
Close-Enemies-(Dyro-Remix)--EM1112
Stream:
Example
 - Close Enemies (Dyro Remix)
[soundcloud url="http://api.soundcloud.com/tracks/67977981" iframe="true" /]