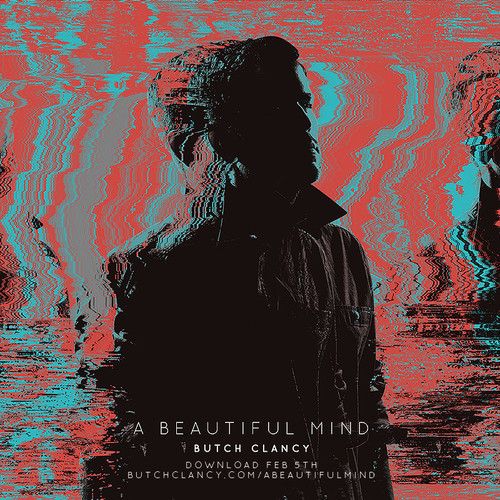 The trap game has been heading in a more EDM-oriented direction lately: everything from remixes of electro house and trance tracks to original productions with chill and heady vibes. The once-prominent dark southern hip-hop vibes seem almost lost nowadays. I try to stay loyal to trap's second wave (see: Waka/Gucci/2Chainz) every week in Wobble Wednesday, but it certainly isn't easy. That's why I am very happy to introduce Detroit-based producer Butch Clancy's new ratchet-focused free LP, A Beautiful Mind.
Butch Clancy has been a regular on Wobble Wednesday and the late Filthy Friday for over a year now with various drumstep remixes and original filth tracks. He has won Beatport Play's remix contest with his remix of Zeds Dead's "Cowboy", and his track "Where I Can't Follow " is included in Dim Mak's upcoming compilation. When looking at how many genres he's tapped into, it is easy to see the progress he's made since his start over a decade ago. But enough of the history and hype, let's get to these new block-rocking beats
Most of the tracks sample some classic hip-hop verses, and some even have the infamous taglines we hear in almost every Flosstradamus track and Trap-A-Holics mixtape. In a world overrun by singles and random releases, this LP possesses the type of flow only full albums can achieve. It's easy to forget you're driving to your 9-to-5 and not rolling deep in shadier endeavors. The album kicks off with "A Beautiful Mind", which includes samples of 2pac and has a very Eprom-like beat to it. Up next is "P&B" featuring the flowing verses of A-1. This sound is just as explosive as the previous track. Further down the track list you'll find "Lazy Twerk" and "The Ratchet Anthem". They would go very well side-by-side in a live set.
Overall, after listening through A Beautiful Mind several times, all I can say is "Where's my Spray-K and balaclava? We're rolling deep tonight."
If you're in the mood for some good hood beats, grab A Beautiful Mind here, and don't forget to catch Butch on his upcoming Canadian tour.
Here are some of his other tunes to get you started:
[soundcloud url="http://api.soundcloud.com/tracks/11600176" params="" width=" 100%" height="166" iframe="true" /]
[soundcloud url="http://api.soundcloud.com/tracks/76996537" params="" width=" 100%" height="166" iframe="true" /]
[soundcloud url="http://api.soundcloud.com/tracks/74177518" params="" width=" 100%" height="166" iframe="true" /]