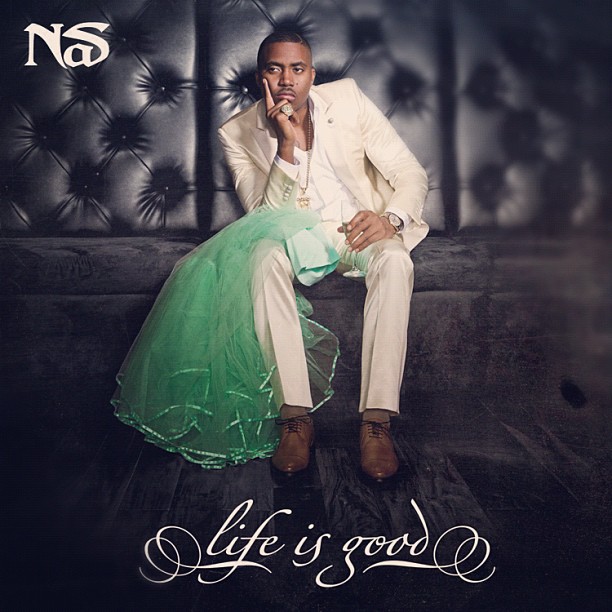 Album Review: Nas - Life is Good
Artist Name:

Nas

Album Name:

Life is Good

Release Type:

Release Date:

Record Label:
Label Location:
Review Author:
Review Date:

EM Review Rating:
The hip-hop reporter opens his bag. He removes one envelope which contains another sealed envelope, as well as two non-existent cheques: one for expenses, the other for pay. The first envelope contains an album: Nas's Life is Good. The reporter picks it up and examines the cover: a photograph of Nasir Jones seated on a couch, dressed in an immaculate white suit, champagne glass in hand, gazing off into the distance, pensive. The reporter opens the CD and examines the roll call on the backside of the booklet. He sees a one Matthew Salacuse listed as the principal photographer. He knows him. He remembers speaking to Salacuse over the phone once, having completed a photographer's profile on Nas for a competing magazine. "Nas was so stoned his eyelids were perspiring," Salacuse had recounted to him. "It was so hot in the city but Nas just took a seat, listened to my directions, and everything went smoothly." The hip-hop reporter furrows a brow. He sets down the CD on the dash of his father's Buick, and stares off into space; he veges out.
Nas is a stoner. You have a first-hand witness who can vouch for that. You also know the first-hand effects of marijuana: heightened awareness, wisdom, and perspective. Perspective, perspective, perspective. What does that remind you of? Well of course the album cover for Life is Good. Nas is sitting there, all alone on the black bench like he's just weathered the storm: his split from Kelis, the media nonsense surrounding his daughter, etc... Nas is not just gazing off into the distance. He's looking back at his life from a stoner's perspective, as if his life is a movie, and the movie is an album, and the album is the album which you must review, which is Life is Good. But then why does Nas seem so bored? Well, because artists love their muses. All the shit -- by way of stories, tales, first-hand accounts, fables, fairytales, analogies -- they all fuel his art, so no wonder Nas is saying on Track 14 "Bye Baby" as well as in the album liner notes that he does not regret a thing, and would go back and do everything the same. As an artist, or screw that, as a man, Nas understands that there is courage in recognizing a doomed scenario but still going along with it for the sake of the ride. That's life, no?
Nas---Bye-Baby-(Prod.-Salaam-Remi-40)--EM0712
Download:
Nas - Bye Baby (Prod. Salaam Remi & 40)
The hip-hop reporter snaps back to Earth, and pulls into the drive-thru of Tim Hortons. He orders a medium coffee with double sugar and then takes the Nas CD from its packaging and inserts it into the stereo system. He jacks up the volume.
Track one. "No Introductions". J.U.S.T.I.C.E. League production. Their usual dramatic piano and synths. Nas provides the Spark Notes of his life up to this point. "Brazilian women on Xanies, they pullin' off panties, I'm pushing forty, she only 21, don't applaud me, I'm exhausted, G." Track two. "Loco-Motive" featuring Large Professor. Where's Large Professor? A couple pre-verse ramblings. An introduction to the atmospheric, tangible, throwback beats NO I.D. blesses the album with. Recalls the atmosphere of 90's New York; mean bass guitar with matching keys; hard times. Nas supplies more irony. "This for my trapped in the 90's niggas." 'Trapped' is not the same as 'stuck'. Nas is a wordsmith. He chooses his words carefully. Skip ahead a track. "Accident Murderers" featuring Rick Ross. Another scratchy throwback beat from NO I.D.. Static-y synths, up-tempo keys and drum-line, Norman Feels sample. Nas uses youngins' inflated egos against them. Makes fun of gun shooters for having bad aim, hoping this will bruise their egos enough to cease fire. Rozay proves he is the new Birdman. He works the name of his forthcoming album, God Forgives, I Don't, into his lyrics as a marketing bonus. Track 7. "World's An Addiction" featuring Anthony Hamilton. Standout song. Produced by Salaam Remi, Nas's longtime mate. Anthony Hamilton's intro: "Lies, and the pain, betrayal, life." Flutes, clarinets, strings, an orchestral number just like the rest of the project. Followed by "Life is Good", Swizz Beatz's party record. Irony. There are fourteen songs on this album, discounting the bonus tracks, and only one is particularly upbeat. Confirms the irony of the title and the album art. Is life really so good after all... in retrospect?
NaS---Loco-Motive-(Feat.-Large-Professor)-(Prod.-No-I.D.)--EM0712
Download:
NaS - Loco-Motive (Feat. Large Professor) (Prod. No I.D.)
Nas---Accident-Murderers-(Ft.-Rick-Ross)--EM0612
Download:
Nas - Accident Murderers (Feat. Rick Ross)
At this point the hip-hop reporter pulls into the underground parking of his parent's townhome. He ejects the Nas CD from the stereo system and replaces it in its case. He then replaces the case in the envelope, and removes the second envelope from the bag. What do you know? It contains black and white copy. The reporter examines the fine print. It is background on the album. He reads it to himself while still sitting in the car. "Nas has been disappointing people nearly half his life. By now, the passion play of raised and swiftly dashed hopes that occurs whenever he announces a new album has repeated itself enough times to officially qualify as farce... Never judge an album by its cover. Despite wearing a sad-eyed expression and having ex-wife Kelis's wedding dress draped over his knee, life is good for 38-year-old Nasir Jones right now... Like most pop music, hip-hop is no country for old men." The reporter stops skimming. He is already out of the car and heading into the basement of his home wielding a pile of library books, as well as his tennis bag. He eagerly steps inside the house -- slipping off his Vans.
The second envelope of papers is sitting outside in the recycling, along with the reporter's non-existent cheques.