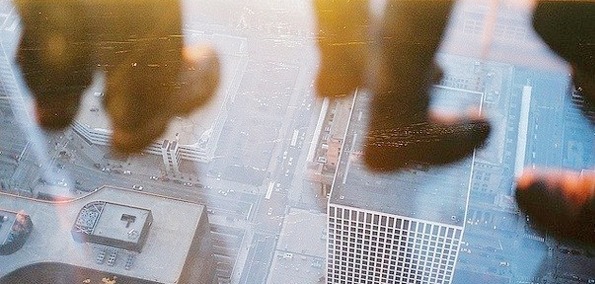 Fans of ambient music, you better perk your ears up for this next up and comer. Anthony Baird, a.k.a Exist Strategy, is an ambient music producer who represents the city of Montreal. Over the extended period between now and the time I luckily discovered him, he has been frequently cranking out singles, free downloads, and collaborations. He has been quite active, and it is only now that I have chosen that seems most appropriate to bring forth his work to share with fellow EARMILK-goers.
As you might know, ambient music can consist of several different styles and aspects.  Ranging from the environmental and organic sounds utilized by producers like Noyce to airy instrumentals most noted in All India Radio's work, ambient is just as diverse as any other musical genre. Exist Strategy wanders the kingdoms of electronica, chillwave, and shoegaze. That's not to say that he is limited those two particular styles, that's just where he has headed for the most part in his latest album, Dreamcatcher, which was released on April 5.
I honestly didn't know what to expect when I downloaded my own copy of the album. The single releases and material prior to Dreamcatcher fluctuate in moods and sounds, though you could argue that it all lead up to the fruition of the album in the first place. "Never Lose Your Smile" instantly absorbed me into Exist Strategy's world. Acting as the opening tune of the album, it incorporates a fair amount of electronic effects with a very slow beat. Of course, there are other effects that come into play that almost reminds me of something animalistic. Not all tracks are meditative or sunny. Take "Unquiet Mind" for instance. Exist Strategy took a more minimalistic and drone-like approach in this particular track. It vibes out dark moods as the crackling gives you uncomfortable and unsettling unrest. Or note the track "A Song For Stolen Keys". It has a majestic and youthful persona to it, which is most expressed through the pianos and subtle electronic effects.
Dreamcatcher was definitely a big surprise for me, and has made it on my personal favorite-album-of-the-month-list. The dynamics of the album is quite invigorating and engaging. Ambient does tend to have a slow pace, which can fall into the trap of being mundane or trite. Sure, anyone can make an ambient tune with just minor bass buzzing with airy effects, but it's another story where each individual track goes up and above the expected. Exist Strategy has some serious staying power.
Never-Lose-Your-Smile--EM0413
Play:
Exist Strategy - Never Lose Your Smile
Play:
Exist Strategy - Unquiet Mind
A-Song-For-Stolen-Keys--EM0413
Play:
Exist Strategy - A Song For Stolen Keys
Exist Strategy
Dreamcatcher