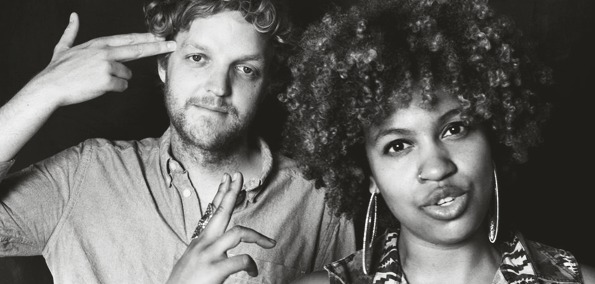 Belgian producer Mathieu Fonsny, better known as Surfing Leons, has a special announcement and treat for you Earmilkers. On February 20 he will be dropping his new single "Banga", featuring the vocals of Miss Eaves on Buraka Som Sistema's Enchufada label. To accompany the announcement, today he gives us a special mix and trailer for the release. Described as a "soundsystem troubling mix of electronic beats, bass and dancehall attitude, "Banga" has been the highlight of Mathieu's DJ sets and performances with Miss Eaves for the past few months." The video teaser captures the duo performing the song while taking the country by storm. Check out both below and if you are not familiar with Mr. Fonsny, here's a little run down.
"So what can we say about Mathieu Fonsny,…Night owl? Sure. Workaholic? Definitely. Pioneer of new sounds, always looking for new adventures? Passionately so, to the point of madness even." Well, one thing is for certain: this guy knows how to wear many hats and wear them well. The 29-year-old producer travels the world gracing the DJ decks from Miami to Ibiza to Paris to Lieges, and that's just the tip of the iceberg.
Additionally, he runs his own label and studio, puts on parties for his Forma.T label that has seen the likes of Justice, Rusko, Boyz Noize, Diplo, James Blake, Sebastian, Martyn, just to name a few, and if that wasn't enough, he also is the programmer for the annual music festival Francofolies de Spa and the Belgian ambassador for WESC Chamber's RZA (Wu-Tang Clan)-approved-and-designed headphones. Oh, and I can't forget that he does this all while holding down residencies at the legendary Brussels techno club Fuse, Privilege in Ibiza and the Social Club in Paris.
To put it simply, Surfing Leons is the music of the past, the music of present and, with several releases lined up in 2013, most certainly the music of tomorrow. When it comes to sound and style, Mathieu leads with an open mind and is not too keen on repetition. He remarks, "I understand why some artists get stuck in a style and close their minds to others, blindly claiming that they belong to a unique scene or fashion. But that is not my style. With the Format.T evenings or what I offer with Surfing Leons, my approach is completely different. Listening to, or playing, the same music from start to finish of an evening pisses me. I do not belong to any one era or family."
Mathieu seems to have it all figured out. Look out for the track on February 20, which he will be giving away for free download. 
[soundcloud url="http://api.soundcloud.com/tracks/77755880" params="" width=" 100%" height="166" iframe="true" /]